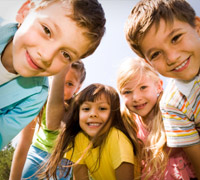 Remember when you were a kid and had no idea what it was like to pay bills? Parents often shelter their kids from grown-up realities about money. But in our attempts to protect them from "real world" truths, we can fail to teach them about money at all.
As a result, we're raising a whole generation with "sucker" stamped on their foreheads. When your kids leave home, they need to know how to handle the financial challenges and temptations they'll face. They should be aware of the hidden dangers behind those credit card offers and that driving a used car isn't such a bad thing. It's our job as parents to get this message through to them.
Consider these alarming stats:
54% of parents rated their teenager's knowledge of money management as either "good" or "excellent," but 78% percent of the children of those respondents rated their own knowledge of money management as merely average or even poor. (Capital One and Consumer Action, 2003)
Only 26% of 13-21 year olds surveyed said that their parents taught them how to manage money. (JumpStart Coalition for Financial Literacy)
The fastest growing group declaring bankruptcy is young adults, ages 20 to 24. (Alejandro Cabezut, 2004)
Those numbers make it clear that we have not taught our children how to handle money. Young people are making mistakes with zeros at the end of them. These mistakes can take years to overcome. But if you teach your children how to handle money when they're young, they won't end up with money regrets later on in life. You can give them the head start you wish you'd had.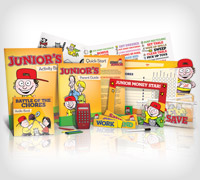 A Powerful Tool to Help You Teach Them Now
The Financial Peace Junior Kit was created to teach kids ages 3-12 the value of money and hard work. The updated kit includes all new tools, activities and games to make learning about money fun for kids. It features an easy-to-follow parent guide and a 35-page kids' activity book with four lessons
How earning money works
How to save and pay cash
The importance of giving
How to have fun spending on a plan
There's a kids' version of the Envelope System, a calculator, chore chart, stickers, magnets and more. Everything you need to teach your kids how to win with money is in this kit! Get your Financial Peace Jr. kit today!