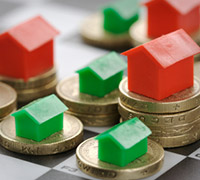 You may have heard Dave's story about how he became a millionaire in real estate and then lost everything. Maybe that story convinced you to stay away from real estate as an investment.
The truth is, real estate isn't what caused Dave to lose everything. It was debt. Dave still believes real estate is a great investment—for the right type of investor at the right time.
Time It Right
At first, you might think real estate investments should be part of Baby Step 4. Actually, it is best to wait until Baby Step 7 when you have no debt, your retirement and college funding are well underway, and you're ready to build wealth (and give some away).
Why wait? People call Dave's radio show all the time to ask if they should buy one real estate opportunity or another. If they currently have a mortgage, but have the cash to make the deal, Dave always asks, "If you owned your home outright, would you borrow against it to buy this property?"

Be confident about your retirement. Find an investing pro in your area today.
Of course not! You should never invest—even in real estate—with borrowed money. And, essentially, that's what you'd be doing if you didn't pay off your mortgage and used your savings to buy an investment property.
Cash is king in the world of real estate. Whether you plan to flip a house—buy it cheap, fix it up and sell it for a profit—or keep it as a rental property, you should only buy with cash.
The Right Fit
Real estate investments can give you a greater return than a mutual fund investment, but it's a lot more work, too. Dave calls this the hassle factor.
To find out if you have what it takes to be a landlord, Dave recommends you start with low risk—one small house or condo. Your renters will likely be lower income, and that can be good and bad: Good because they will probably be low-maintenance, but bad because collecting rent from them may be difficult. But that's the best way to learn the ropes of being a landlord.
If you don't want to be a landlord, you can invest by flipping houses. In addition to saving up the cash to do a flip, you'll need to study the market and have a realistic budget for repairs.
Some Final Tips
Keep these tips in mind while you're considering real estate as an investment:
Be patient and look for deals. The better the deal, the better your potential return on investment. Buying foreclosures is a good way to get a deal if you shop smart.
Don't buy an investment property for the tax write-off. You'll make more money investing in mutual funds.
Consider better tax advantages. After you've done 30 or more deals, you can consider buying and selling real estate within a self-directed IRA. That means your investments grow tax-deferred. Talk to an investment Endorsed Local Provider about this option.
Work with a real estate professional you can trust. With all the experience Dave has in real estate, he still uses a real estate agent. If you're ready to buy or sell property, talk with one of Dave's real estate Endorsed Local Providers today!