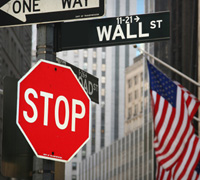 When you reach Baby Step 4 and start investing 15% of your income for retirement, you may start to feel invincible. You're debt-free, you've got your fully funded emergency fund, and now you're building wealth for the future. Life is great!
But even for folks in Baby Step 4, life still happens, and you may go through times when you need to push pause on your retirement plan. Here are a few instances when Dave recommends you stop investing for a short time.
Saving Up for a Home
Technically, saving up a down payment for your home is Baby Step 3b, but for some people, their season to invest comes before their season to buy a home. So it's okay to stop investing and pile up cash for your down payment, but do it quickly. It should take no more than 18–24 months to reach your goal and get back on track with your retirement plan.
Losing a Spouse
Whether your spouse passes away or you go through a divorce, your financial picture is going to change. But don't make any important decisions right away—for a couple of reasons. First, you need to give yourself some time to let your emotions settle. Life insurance, inherited retirement funds or alimony or child support payments will make a big difference in your budget, so you'll need a clear head to handle that. Second, it will take a while for you to know for sure what your financial picture looks like. How much life insurance is there? Will you be receiving or paying child support? How much? Keep the bills paid and food in the pantry, but put all nonessential money matters, such as new investing decisions, on hold until you have the answers to these questions.
Enduring Major Life Events
In the case of a job loss or major medical event, you may find yourself living off your emergency fund. Great! That's what it's there for. But any time you drain your emergency fund, your top priority is to replace that money as soon as you can. Stop investing until you get back to work and rebuild your emergency fund. Then jump back into your investing plan.
To stop investing through your employer's retirement plan, just let your human resources department know you need to temporarily stop making contributions, and they'll have a few forms for you to fill out. Same goes for your investment advisor. Remember, though, this is not a permanent situation. You want to get back to investing as quickly as possible, so set your goals and get gazelle intense about meeting them and getting back in the game.
Get Great Advice to Keep Your Plan on Track
Whether you're just getting started investing, getting restarted, or if you're moving full-steam ahead in your retirement plan, you can benefit from the advice of an investment professional. Dave's investment Endorsed Local Providers will give you the same great investing advice Dave would. Contact your ELP today!