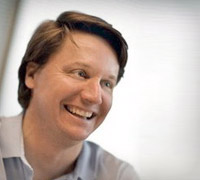 A Man on a Mission
Patrick Johnson has always believed that if we are going to see a revolution of generosity in this nation, we need the church involved.
Nearly a decade ago, Patrick Johnson was serving as the treasurer at his church when he felt God distinctly tell him: I want you to preach on money. "I'd never preached on money before, that's for sure."
His pastor thought it was a great idea, so in preparation, Patrick read a book called The Treasure Principle. It gave him a whole new perspective on the connection between generosity, grace and one's spiritual life as a Christian.
Soon, it went from preaching a sermon to realizing that it was his calling in life to teach people what biblical stewardship looks like. God opened the door for him to travel the country with Ron Blue and the Christian Financial Planning Network, and he was then invited to come on board at an organization called Generous Giving.
The organization asked him to develop a strategy to get the church involved in generosity in a whole new way, and he recalls saying, "That couldn't be too hard…"
"Those were my famous last words," he laughed.
Patrick has always believed that if we are going to see a revolution of generosity in this nation, we need the church involved.
So, he left his job and came on board with Generous Giving. For the first two years, he simply traveled the country visiting innovative churches and seeing what they were doing in the area of stewardship, connecting churches to each other where he saw needs.
Two years later, he continued networking by forming a Generous Church Leader community as part of the National Christian Foundation.
It came about as an answer to his question: What's the best way to influence the church? Leadership. "The culture of the church reflects the life of the leaders," he said. "I reach out to the pastor, key staff, and key lay leaders. Once those three align, good things happen in the church."
Why The Issue Gets Ignored
Stewardship and generosity are not interchangeable, but true, biblical stewardship inevitably leads to generosity. Yet, many church leaders don't give either issue much attention.
From Patrick's experience, there are typically three reasons that pastors don't make stewardship training a priority:
1. Fear: Patrick doesn't find that many of the pastors he works with are greedy. They're good men with a heart for the kingdom who aren't out to get rich. Yet, so many of them are fearful of being perceived like the prosperity preachers on TV. They don't want to be misunderstood. They think, If we address this issue of money, people are going to doubt our motives. "But that's ridiculous if you think about it," Patrick said. "Most pastors I know sacrificed a lot of time, talent and treasure to get their church going in the first place."
2. They just don't think about it: "I found out that there are a lot of generous pastors—who are far more generous than I am—but it's very few pastors' passion." They are usually more focused on things like evangelism and discipleship. "They don't wake up thinking about it all the time, so they don't think to preach about it."
3. They don't see the need: Patrick has noticed that many pastors simply don't have eyes to see the need for stewardship training. So many times at events he has watched them make the connection between stewardship, generosity and discipleship for the first time. "When these three things come together, they see this is not about raising more money for the church— this is about the life of the disciple. This is about the kingdom of God. Once you see it for the first time, then you see it all in Scripture. You see it everywhere."
Patrick sees great value in having a pastor and ministry focused on stewardship—but under one condition: that it's not "silo-ed."
"I think a trap that a lot of churches fall into is that they hire a stewardship pastor to come in and do some great things, but if it's not integrated across the church, it becomes silo-ed, and my experience has been that even at large churches you're only reaching a small group of people. "
Yet, many churches are making biblical stewardship a part of their DNA. Pastors and leaders are awakening to the need and watching amazing things happen as they financially disciple the congregation. Dave Ramsey has created a program called Momentum to lock arms with churches that want to do just that. Momentum is all about bringing people back to God's view of money management and cultivating a culture of lasting generosity. Discover today how Momentum can help your congregation.
Read Part 2 and Part 3 of our interview with Patrick.
More About Patrick Johnson
How generous is your church? It's not an easy question to answer, but Patrick Johnson, Chief Architect of GenerousChurch, has helped churches all over the country do it. You can learn more about it at generouschurch.com.