What Does It Take To Change A Nation?
What would you do with $1 million? If you're Miss America, you'd buy world peace. If you're an 8-year-old boy, candy for all! And what if you're just you? Well, the possibilities are endless. In the hands of someone who manages it well, $1 million could change a family or a community forever.
What about various amounts of money managed well by one million people? Now we're talking about changing a nation!
Dave's curriculum for high-school students, Foundations in Personal Finance, is doing exactly that. This year, we hit a huge milestone: More than one million students have completed the program!
We can't wait to see the impact of this curriculum on the next generation. And we want you to be in the loop. Read on to learn more about Foundations, including the new edition launching this fall.
The need for knowledge
Passing on God and grandma's wisdom in any area of life—especially money—isn't the tradition it used to be. That means our kids are leaving home lacking practical knowledge for all kinds of applications. When it comes to actions regarding money, this is a big deal.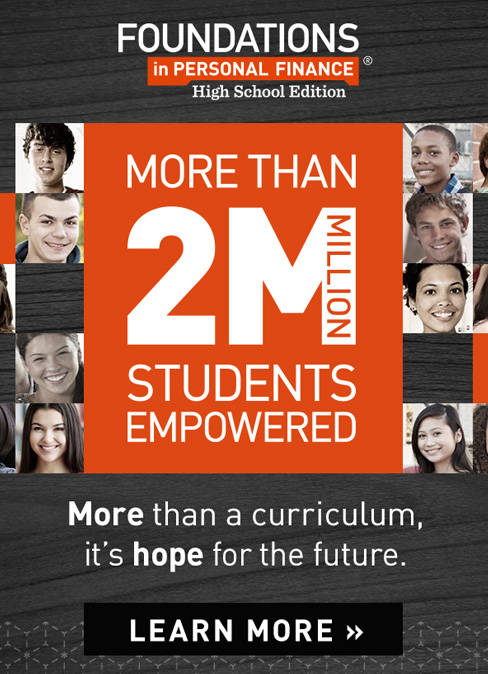 It starts when mom and dad hand over an allowance without teaching teens to do a budget or create a savings plan. It compounds just a few years later when they get ready to enter the real world.
Compared to just seven years ago, graduates are 50% more likely to postpone big life changes associated with financial independence. And any financial security they do feel about their future comes, in part, from the hope of depending on their parents until a later age.
For their sake and yours, this has got to change!
Thankfully, there's good news. Studies show that 86% of teens would rather learn about money management now before they make any big mistakes. That's where we come in.
Education is the answer
All that's required to get things moving is a teacher who can play a video and manage classroom discussions. That's it! The Foundations in Personal Finance curriculum will show students how to win with money.
Shelley, a teacher in New Buffalo, Michigan, describes her experience with the curriculum in this way:
"My students are fully engaged. They're having fun while they learn! Instead of sitting, reading, doing worksheets, or sleeping, they're watching and laughing. The program truly teaches students in a language they understand and has made learning fun again!"
Already an industry leader and used by one in four high schools across the country, our program is about to get even better.
On October 1, we launched a new edition featuring tons of exciting changes:
Rachel Cruze joins Dave and other experts in teaching the videos.
There are new chapters on going to college debt free, the history of personal finance, careers and taxes, and—our favorite topic—giving.
We've included more than 100 classroom activities to encourage practice and keep students engaged.
We're introducing a blended learning site with calculators, tools and resources.
The new version includes an eText alternative for tablets and desktop.
Teachers can also choose between multiple learning options to best suit their needs. We offer a traditional classroom and text option, a video streaming and electronic eText option, an exclusively online option, or any unique combination of the three.
Our desire is to make the financial education of teens as easy as possible. After all, if we can make positive changes in the minds of the next generation regarding money, we can change our nation.
Check out our site for more information.