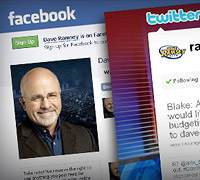 April showers brought May flowers ... and some interesting tweets and posts. Check out some of what you may have missed in May if you don't follow Dave and his team on Facebook or Twitter.
Facebook
Steve: Yard sale season is kicking into gear. Learn how to make the most of it with Turning Trash into Treasures
Blake: Here's a mouth-watering post if there ever was one. Martha's Orange Creamsicle Ice Cream Pie from "Martha's Place" in the Dave Ramsey office/studio.
On Twitter? Follow @BlakesBumps for daily links to artists/songs played on the show that you can stream instantly! www.Twitter.com/BlakesBumps or if you're not into Twitter, stream all the songs daily using this link.
Steve: Have you launched a successful small business in the past year? If so, tell us what type and the secret to your success! We really do read all your feedback!
Blair: "We buy things we don't need, with money we don't have, to impress people we don't even like." – Mary Ellen Edmunds
Christy: 1/3 of recent college grads are living w/ their parents & 17% financially dependent on them. Most are in debt. – Adecco
Twitter
EntreLeaders never plow the field without first flying over it. You need to see the big picture before you start moving things around.
RT @michaelwsmith: Here with my friend Dave Ramsey, giving him pointers on how to cook the seabass. http://say.ly/LSnjHM
Hearing "But dad, he's a dreamer!" is the same as hearing, "Dad, we're going to live in your basement forever." Don't just dream; DO!
The first minute counts in sales. You have 1 min to make a personal, trust-building connection with the buyer. Don't waste it!
Blake: McDonald's found that cash customers spend 47% less than those using plastic. You don't "feel" it leave when using plastic.
Blake: Harrison Group researchers found Costco and Target were the favorite stores of the wealthiest Americans.
Chris: Dave is telling his story of failure @ the closing dinner. We are inside the USA pavilion @ EPCOT http://lockerz.com/s/103336666
RT @Marcus_Bryan: The free chapter of EntreLeadership by Dave Ramsey is awesome! Get yours at: http://entreleadership.com #elbook
If you're in college, remember it doesn't last forever! The decisions you're making now will affect you when you get out of school.