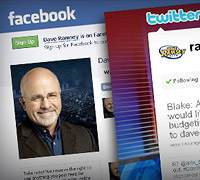 July was as busy as it was hot, and the Facebook and Twitter accounts around Dave's office were on fire! Check out some of the highlights you may have missed, and be sure to follow Dave's team on Facebook and Twitter.
Facebook
Blake: Did you miss Dave on CNN's Piers Morgan Tonight? Here's the video. http://bit.ly/nocol6
Steve: Before you call that contractor read, Renovations That Cost More Than They're Worth, on daveramsey.com http://bit.ly/onRH88 . It might save you a bundle!
Robbie: The Great Recovery has started, and the number of people who could experience life-change is staggering. Please help this movement spread by telling those you care for most about TheGreatRecovery.com. It starts with you!
Robbie: "If you sow stupid, you're going to reap desperate." —Dave Ramsey
Rachel: What record did the class of 2011 break? A. Most number of graduates? B. Most Ramen Noodles eaten? C. Most student loan debt? (The answer was C!)
Twitter
Congrats to Blake Thompson our Producer for 15 YEARS!!! Unheard of in Talk Radio!!! Standing O in Staff Mtg today.
Some say "debt is a tool", what they don't say is debt makes you a slave (Proverbs 22:7) It's not worth it. #justsayno
If instead of $4 Starbucks Frap every day in college, u invested that money, you'd have $1,805,830.49 at 65 #coffeetruthforcollegestudents
Most Americans made their biggest money mistake in college, getting a credit card. College students, learn from them! STAY AWAY FROM DEBT!
"Why pay $45 for shoes, when you can get 3 pairs of my $15 shoes?" What I told my friend in 4th grade when he got Jordans
"God is the author of our hope." - Dave Ramsey, The #GreatRecovery webcast
Daniel: Your job isn't to solve problems. It's to solve the right problems.