Taxes
What Do I Do With My Tax Refund?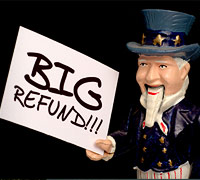 It's no secret that Dave doesn't like tax refunds. Anyone who asks him how to use a refund usually gets a bonus lesson on how and why to avoid one in the future.
What Does Dave Have Against Tax Refunds?
So, why don't you want a refund? Isn't getting a chunk of money at tax time as good as getting smaller amounts throughout the year? No way!
The IRS estimates that the average tax refund was $2,900 in 2011—that's a little more than $240 per month you could have brought home in your paycheck.
Related: Our tax pros can show you how to take home as much cash as possible with each paycheck and avoid overpaying the IRS. Connect with a tax pro today!
Your goal is to pay nothing at tax time and not get a big check back from the government. To do that, do some figuring now to determine what your taxes will be for next year. Fill out a new W-4 to have the proper amount withheld from your paycheck.
We recently asked our Facebook fans what they plan to do with their refunds. Clearly, some of you have learned the truth about tax refunds!
"What refund?" Steph Eisert asked. "We don't make interest-free loans to the Treasury!"

Don't let taxes stress you out. A tax pro is the way to go!
Cynthia Thompson said this is her family's last year to get a big refund.
"This year, we'll pile (our refund) up in the bank, Ramsey-style," she said. "Next year, we'll make a few adjustments so we're not giving Uncle Sam an interest-free loan!"
Don't Blow It
Like Cynthia, you need to have specific plans for your refund. Here are some "Ramsey-style" suggestions:
Attend Financial Peace University – Use part of your refund to register for a local Financial Peace University class. This 13-week course has taught more than one million families how to live like no one else by saving, giving and living debt free. Consider it an investment in changing your family tree.
Work the Baby Steps – Any chunk of money should go directly into your current Baby Step. Finish or replenish your emergency fund, pay some debt, or save it for a large cash purchase, like these Facebook fans:
"This year, I'm using my tax refund to break up with Sallie Mae," Melanie Boughton Steinhouser declared.
"In years past we would have just blown it," admits Alicia Ann Medina. "This year we are putting it toward our emergency fund."
"(I'm going to) save to buy my first cash car and get out of a car payment!" Christine Bourdeaux said.
Give Like No One Else – If you've made it to Baby Step 7, use your tax refund to give like no one else, like Facebook fan David Jackson and his wife. Their refund is going to pay for a mission trip to Costa Rica.
"It's the first time we have ever been able to go on one together!" he said.
Take Care Of Business
If you're expecting a refund this year, a tax professional can help you be sure you get all that's coming to you. Then, you and your tax professional can determine what adjustments you need to make to keep more money in your paycheck. Dave's team can put you in touch with a tax services Endorsed Local Provider today!