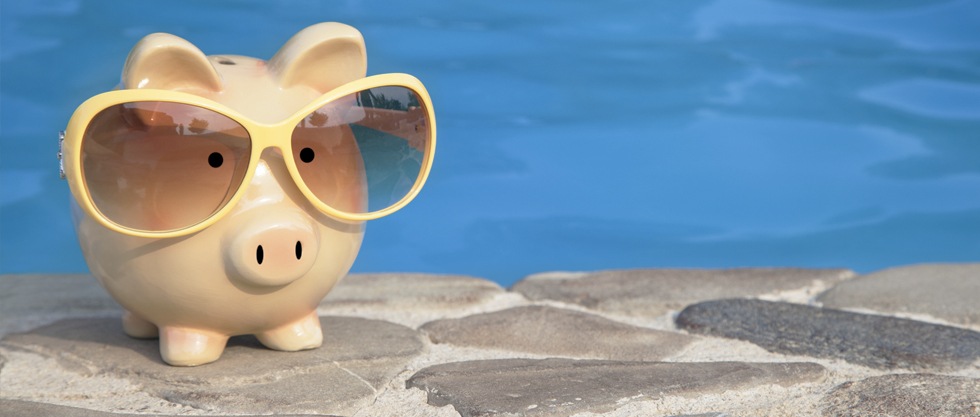 You probably love the thought of going on your next vacation. But we're guessing you don't love the thought of all your money leaving your bank account to pull off said vacation. If only there was a way to have a great trip without spending too much.
There is a way. Actually, we know six of them! Here are half a dozen ways to have fun on your next getaway without going broke.
1. Enjoy a few things rather than doing everything.
If you pack too many sightseeing tours and stage shows into your big-city visit, the costs really add up. On top of that, it's hard to enjoy any of the activities. Why? Because you're too busy looking at the clock and hoping you aren't late to the next activity! Plan one or two events per day and enjoy them to the hilt. You'll save money, avoid stress, and be able to relish your experience!
2. Don't take advice from your children.
Just about everything looks good to your kids on vacation—oversized snacks, toys in the gift shop or the thought of renting a pedal boat for a day on the water. They will gladly offer unsolicited advice such as "Hey, Dad, we should try this!" or "Hey, Mom, that would be awesome!" Stick to your spending plan no matter how many times you hear "Can we do that?"
Related: How to Talk to Your Kids About Money
3. Pay for it now.
When you pay for your getaway with cash, the deal is done. You know how much you spend. Compare that to using credit cards. The cards get swiped here, there and everywhere, and you don't realize how quickly the charges pile up. Then when the bills comes next month . . . well, you see where we're going with this. Paying in full now prevents unpleasant surprises later.
4. Don't compete with friends on social media.
You may see the vacation pics of friends on Facebook and Instagram and feel pressure to do something bigger, more exotic or more adventurous. Bad idea! Vacations are meant to be enjoyed, not compared. Don't overspend just so you can one-up the Joneses. Focus on having a good time on your trip that you can afford. Even if that means a fun-filled weekend at the lake, it's much better than a "competition" trip to Hawaii.
Related: For more on comparisons, check out Rachel Cruze's new book Love Your Life, Not Theirs
5. Don't wing it.
Who wouldn't love a spontaneous trip to the beach or the Big Apple? The only problem is, if you have no plan and spend without a care, you'll overspend big time. A good way to inject some fly-by-the-seat-of-your-pants fun is to make a list of vacation activities you're interested in and set a budget for them. Then each morning of your getaway when you wake up, decide what you feel like doing that day.
6. Eat out twice a day, tops.
Having lunch or dinner out is almost standard issue for vacations. In fact, it's part of the reason why trips are fun. It could be a tall order, though, to pay for 21 restaurant meals during a weeklong getaway. Try this instead—when you arrive at your spot, stop by the nearest grocery store and buy milk, bread, cereals, lunchmeat and other staples. Chow down on at least one meal in your room each day. You still get to eat out while keeping the food bill easy to swallow. Win-win!
Related: 15 Insider Tips to Enjoy a Debt-Free Vacation
It's totally fine to have a nice vacation as long as you pay for it with cash. But don't break the bank for the sake of having fun. Make a plan, focus your money, and have a great time. If you don't get to do all the activities you want at that destination, that just gives you a reason to go back next year!
Keep up on your budget easily with EveryDollar, our free budgeting software.