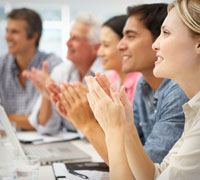 If you are searching for the biggest ROI, look no further than out your office door. By investing in your team, you're creating a place where people love to work, are passionate about their jobs, and make excellence a never-ending, everyday quest.
So how do you go about crafting this kind of culture? We asked Dave's Facebook fans, both business owners and team members alike, to share what makes their companies great places to work. Here are some of their answers.
I work for a school district in Missouri. Our central office has Sonic drinks delivered to our school once a month for our entire staff. —Ashley
My company has a bucket-list program. We get to learn our team's personal goals and help them achieve them. We allow paid work time to make the list and discuss it. Successes include home ownership, debt reduction, half marathons and many, many more dreams. By helping our employees get their personal lives in line, we help them be more productive while they are at work! —Kristy
We let our team members work from home, when possible, to help save on the costs of fuel and daycare. —John
We have a RAVE (Recognizing a Valued Employee) committee that organizes things like potlucks, fun dress-up days (pajamas, sports jerseys) and other events. Companywide, we're offered eight hours paid time to volunteer in our communities. —Sara
My company pays for monthly running events (5K, 10K, etc.) to keep their employees healthy. —Michael
My work provides free drinks and snacks for all employees. It may seem costly, but it increases morale, gives some of the busier workers the opportunity to "snack through lunch" and continue working, and helps us feel a sense of loyalty to our jobs. —Christy
During the summer, our staff only works half days on Fridays. We get vouchers for local sports teams and work with local businesses for perks/discounts for employees. A 20% discount at a restaurant doesn't hurt the restaurant's bottom line, and it gives major good vibes to an employer! —Chas
On Fridays, my assistant principal gives every staff member a full-sized candy bar with a note telling us we are appreciated, did a good job, etc. There have been many weeks when it has been the highlight. —Tony
We offer free fruit, soft drinks and popcorn, lottery drawings for free tickets to various sporting and theatre events, and an onsite spa and lounge. —Steven
When working for a national retail store, my manager wanted to raise money for Riley Hospital for Children in Indianapolis. One Christmas season, he decided to hire a karaoke DJ to perform during our busiest hours. The store manager, assistant managers, associates and customers were up there singing. It was entertaining and put the cashiers in a good mood, plus it was going to a very worthy cause! —Nicole
At my company, each employee is able to send a recognition award to a coworker who went above and beyond. Depending on your level in the company, you are able to give $40–200 to them, which is added to their next paycheck. —Greta
I recently left my job to be home with my children. It was a job that I loved and hope to return to one day. They allowed me to use my work time to volunteer in the community. They even devote the entire month of June to volunteering. —Sharon
My husband works for a small IT services company. After meeting an annual sales goal, his company sent everyone and their spouses for a weekend at a resort in Jamaica. Everyone who was employed there by July 2011 was included, regardless of job description. It was an awesome reward for a year of hard work and long hours. —Becky
I work for a major airline. On Valentine's Day, our station manager arranged and paid for a masseuse and a beautician. We got free haircuts and massages. Every month, the company gives each employee a day off with pay. So once a month, we have three-day weekends! —Kimberly
We offer each of our employees the opportunity to attend Financial Peace University at the company's expense, including paying for their time in class, and a $600 bonus if their spouse wants to follow along at home on DVD (to resolve any childcare issues). Also, we have rewritten our mission statement to reflect our Christ-centered beliefs about how customers should be treated and made this a mandatory part of how our employees will treat our customers. —Wayne
I have a friend who just started a new job. The company gives their employees an extra week off each year and either $2,000 for themselves or $5,000 for their family to go on a mission trip! —Teresa
For every day that no staff members are absent, our principal gives each of us a "jeans pass." Teachers will do anything to get to come to school in jeans! These passes are like gold! —Patricia
My company offers heavily subsidized vending machines; most of the snacks and drinks are free. —Bruce
To learn more about business, team building and leadership, download our EntreLeadership Podcasts, which include lessons from Dave, plus interviews with key business leaders from across the nation. This week, host Chris LoCurto discusses company culture with Jenn Lim, chief happiness officer of Delivering Happiness, a company she co-created with Tony Hsieh, CEO of Zappos.com.