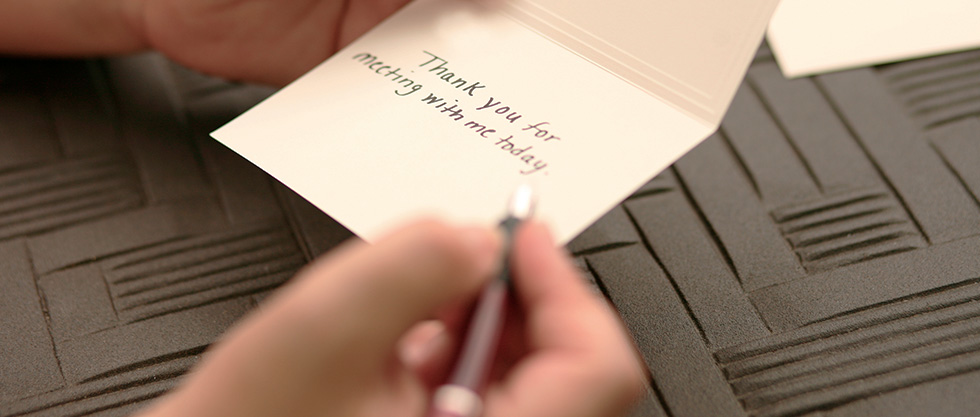 When you think of leaders in your community, who comes to mind? Public officials? Your pastor? Your boss?
What about . . . you? Yes, you. Maybe you already see yourself as a leader. But if you don't, consider this: You have the potential to be one. That's because leadership doesn't just mean the person making the rules, signing on the dotted line or speaking in front of crowds.
Leaders encourage and inspire individuals through small gestures, thoughtful actions, kind words, time spent. They motivate others to take action themselves. If you want to be a leader but aren't sure where to start, try these five easy ways. Then watch your influence grow!
Leaders encourage and inspire individuals through small gestures, thoughtful actions, kind words, time spent.
1. Encourage people with handwritten notes.
In today's culture of text messages and emails, there's something extra special about a handwritten note—especially one that's unexpected. So if you know someone who needs a little cheering up, or just a reminder that they're awesome, let them know! You're guaranteed to become a source of joy in the lives of those around you. And people like that have influence and respect.
2. Bring treats to people whose job is to serve others.
People who work in stressful careers where they regularly give to others sometimes don't get the appreciation they deserve. Let them know that their work matters! Bring treats to the nurses' station at your local hospital, to the teachers' lounge at the neighborhood school, or to the police or fire station. And remind them that they're valuable!
3. Take action on issues you're passionate about.
You have the power to influence the decision-makers in your community. When an issue arises that's important to you, write letters to politicians respectfully and kindly expressing your views. Or attend town hall meetings and tell your city council why you care. Get to know these people and make your voice heard!
4. Serve together with your family.
Find opportunities to be a true servant leader by putting others first. Is there a ministry or a nonprofit whose mission you identify with? Find one you really believe in, and then give it your all. Invest your time, energy and resources into it, and you'll have the power to make a real difference! (That's opposed to getting only a little involved with many different causes, which lessens the power of your influence.)
5. Host an FPU class.
You can help people change their lives—and their family trees for generations—by hosting Financial Peace University. You don't have to be a financial expert to help other people take control of their money, you just need a heart for helping others. If you've never thought about leading a class, but you want to learn more, sign up to attend an FPU Coordinator Webinar, coming up on Thursday, August 18th from 5-6pm CDT. And if you can't make it, sign up anyway, and we'll email you a link to watch it when it's more convenient for you!
Are you ready to make a difference in your community? Leadership opportunities are all around you. All you have to do is choose one and get started!