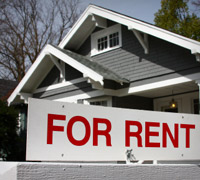 In a separate article, we discussed the option of renting your home if you're having trouble selling it. To follow up on that topic, we asked Arizona real estate agent Cindy May for her advice on renting out a home.
Find out if you need a business license. Some states require landlords to have a business license and pay additional local taxes. Check requirements in your area to make sure you're playing by the rules.
Get your home rent-ready. Keep in mind that most renters won't have their own refrigerators or washers and dryers. It's best to have items like that available for your renters. If you live in an upscale area, consider updating your home to attract tenants.
Plan for emergencies. Be sure you can cover expensive repairs such as a faulty A/C unit or furnace.
Research rent prices. Research rents for similar homes in your area so you can set a competitive rate.
Consider using a property management company, especially if you are a first-time landlord. Their services can be affordable and will cover everything from handling repairs to screening applicants to evicting tenants if necessary.
Look Before You Leap
Even if you're having trouble selling your home, don't make the mistake of assuming renting is your only option. It is a buyer's market, so your home may take longer to sell. But you might be surprised to hear that Cindy, a real estate agent in Arizona, the epicenter of the housing crunch, says she has never been busier.
"Everyone knows home values are down, and investors are looking for deals," she said. In some cases, real estate investors are snapping up homes after only days on the market.
You May Have the Wrong Agent
Before you decide to rent your home, consult an experienced real estate agent to find out how healthy your market is. If you've already been waiting too long for your home to sell, you may be working with the wrong agent. One of Dave's real estate Endorsed Local Providers (ELPs) will talk to you about your options and save you time and money whether you're buying or selling your home. Contact your ELP today!