Investing & Retirement
Want a Secure Retirement? Don't Fall for These 6 Myths
Do you know a retirement myth when you see one? With so much information out there, it can be hard to sort fact from fiction.
But it's better to have a wake-up call now than be broke in your golden years.
The more you know, the more you can control your finances and your future. Don't let these six myths keep you from reaching your retirement dreams!
Myth #1: I'll Live Off Social Security Income
Depending on your age, Social Security may play more or less of a role in your retirement strategy. Currently, the average monthly Social Security payment for retired workers is $1,369.(1) For most retirees, that doesn't come close to covering even basic necessities.
According to the Social Security Administration, Social Security benefits represent only 33% of the income of the elderly.(2) Most retirees must supplement their income with savings, work, or help from family.(3)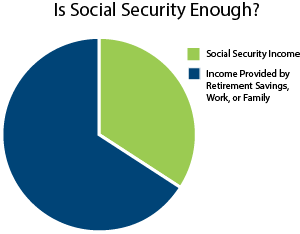 If you want to travel, start that business, or pursue your favorite hobbies, you'll need more than Social Security can provide. Don't put your faith in the government. Make a plan for retirement you can count on.
Myth #2: If I Invest Up to My 401(k) Match, I'll Have Enough to Retire
Do you take advantage of a 401(k) match at work? I've got good news: You're ahead of the curve!
Understand & Own Your Investing Future
Get Started
But don't settle for the match. If you want to build a solid nest egg, you'll need to invest 15% of your income for retirement. Here's what I recommend:
If you have a traditional 401(k): Contribute up to your employer's match in your 401(k), then work with a pro to invest the rest in a Roth IRA. If you max out your Roth IRA and still haven't hit 15% of your income, go back to your 401(k).


If you have a Roth 401(k): You're in luck! As long as you have good mutual fund investment options, you can invest your full 15% in your workplace account.
Now that's smart saving!
Myth #3: I'll Work Through Retirement
If your nest egg feels questionable, staying in the workforce until you're 80 may not seem like a bad plan. You can supplement Social Security with a full- or part-time job, right?
In a perfect world, this could be true. But you can't always predict the future. An unexpected layoff, health issue, or family illness could prevent you from working in your golden years.
In fact, a 2017 survey found that while 79% of working Americans are planning to work in retirement, only 29% of retirees were actually able to do so.(4) Do you want to bet your future on those odds? Me neither.
Myth #4: Medicare Will Cover My Medical Expenses
The average 65-year-old couple needs $265,000 saved up if they want a 90% chance of having enough for health care expenses in retirement even when they have Medicare, according to the Employee Benefit Research Institute.(5) Medicare doesn't cover the cost of deductibles, co-pays, or any long-term care that lasts more than 100 days.
The biggest health expense in retirement? Long-term care. The median annual cost for care at an assisted living facility is $45,000, Genworth research reports. A private room at a nursing home costs more than double that at $97,000.(6) And on average, 52% of those turning 65 today will need long-term care of some kind.(7)
Here's how to safeguard your retirement from medical expenses:
Step 1: Get long-term care insurance the day you turn 60. It's not a fun birthday gift, but you'll reap the rewards if you or your spouse ever need this service.


Step 2: Kick your retirement savings into high gear. The sooner you realize you can't rely on Medicare, the more time you have to ramp up your savings.
Myth #5: It's Too Late for Me to Save for Retirement
I hear this myth all the time. Here's the truth: No matter how close you are to retirement, you still have the opportunity to grow your retirement savings.
Let's say you turn 40 this year and bring home around $4,000 a month. By investing 15% of your income until you retire, you could end up with a nest egg worth $959,000.
Well, that's great if you're 40. But what if you're 50? Contribute 25% of your income toward retirement until you're 67, and you could have $535,000. Is that better than zero? You bet it is!
No matter how old you are, you can still do something. So don't waste another minute! The more time your money has to grow, the more compound growth can work in your favor. See how ordinary people built extraordinary wealth in my new book, Everyday Millionaires.
Myth #6: I Can Do It on My Own
When it comes to investing, it can be tempting to fly solo. But that approach may not lead to retirement security.
A recent research study conducted by Ramsey Solutions found that Americans who work with an investing professional are nearly twice as likely to say they're very confident they'll have enough money to retire, compared to those who invest on their own.(8)
And it's more than just confidence: 44% of people who partner with a professional have $100,000 or more saved for retirement versus just 9% of those who fly solo.(9)
When you go it alone, emotions can get the best of you, causing you to jump in and out of the market when it fluctuates. But trying to time the market only costs you in the end. A pro can help you focus on the long term so you can ride out the waves and reach your retirement goals.
Looking for a pro near you? With our SmartVestor program, you can connect with a financial advisor today. Find a SmartVestor pro!
About Chris Hogan
Chris Hogan is a #1 national best-selling author, dynamic speaker and financial expert. For more than a decade, Hogan has served at Ramsey Solutions, spreading a message of hope to audiences across the country as a financial coach and Ramsey Personality. Hogan challenges and equips people to take control of their money and reach their financial goals, using The Chris Hogan Show, his national TV appearances, and live events across the nation. His second book, Everyday Millionaires: How Ordinary People Built Extraordinary Wealth—And How You Can Too is based on the largest study of net-worth millionaires ever conducted. You can follow Hogan on Twitter and Instagram at @ChrisHogan360 and online at chrishogan360.com or facebook.com/chrishogan360.