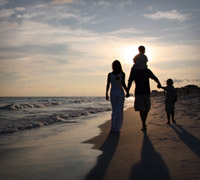 For a lot of people, summer equals vacation. But sadly, many of us set our hearts on a dream vacation and wind up going into debt for our little getaway. It might require some creativity, but it really is possible to have a nice vacation without it following you home! Here are four tips on how to make that happen.
Ask For Discounts
"We are military, so we asked for discounts on everything." —Financial Peace University (FPU) Facebook fan Michelle Brill
Hey, it never hurts to ask! Most places offer at least a 10% discount, but you have to ask for it. Also, many public service jobs (military, teachers, firefighters, etc.) get an even greater discount. Places like to honor them for the work they do, so make sure you take advantage of that if the bill fits your situation!
Barter
"I bartered my web design services with a small hotel chain for an all-inclusive villa plus air." —FPU Facebook fan Debi Martin Adam
If you have a talent that you could offer one of your vacation hot spots, barter your skills for a better price. Are you a photographer? Maybe a resort could use updated photos for their website. Can you write some mean copy? Offer to write tour descriptions in exchange for a discount. Let your imagination get crazy and don't be afraid to at least try it—like we said before, it never hurts to ask!
Travel With Friends
"We went [on vacation] with seven other people and rented a beach house. We made the decision while renting the house last year and got a 10% discount on the rental this year." —FPU Facebook fan April Marsh
If you're up for traveling with pals, you can find some great getaway deals. Plus, you can divide the total cost of the vacation by the number of people going. It's fun and savings for all!
Put It In The Budget
"We averaged out the cost of our last two vacations and made a line item in the budget each payday. As we get closer [to the travel date], we increase the amount we put away. Then, that week we include all of our blow money and entertainment money in the vacation sinking fund!" —FPU Facebook fan Karson Collins
If you sock away a little each month, you'll have a nice trip fund before you know it! Giving every dollar a name, including naming some "vacation," takes the headache out of doing a monthly cash-flow plan. When you name your hard-earned cash, you'll be able to enjoy it much more.
What advice do you have for sticking to your vacation budget? Share it by leaving a comment below.
Want to learn more great ways to negotiate and hunt for bargains? Dave Ramsey dedicates an entire lesson in his Financial Peace University Home Study Edition to this very topic. The FPU Home Study edition is perfect if you can't make it to the live classes in your area. We're here to help you become debt-free, regardless of your schedule!