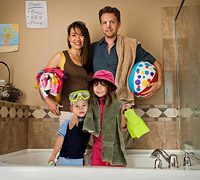 As blue sky and sunshine replace winter's chill, we envision luxurious family getaways at four-star resorts with activities to keep everyone happy. But—what about the budget? The debt snowball?
With a little effort, you can take a vacation that won't wreck the budget. If you don't have much to spend, a staycation is a great idea—if you do it right. On the other hand, if you're debt-free and have saved up the cash, vacation deals are everywhere.
The Staycation
At first, a staycation sounds like a sugar-coated word for a boring few days off of work or school. That's not what we're talking about. When you're on staycation, you're a tourist in your hometown. See the sights. Plan day trips. Make lasting family memories.
First, nail down your staycation budget. With what you save on travel and lodging expenses, you can plan more activities. Try these tips for a memorable staycation:
Treat your home like a vacation condo. Other than keeping things neat and cooking simple meals, normal housekeeping is suspended. Any household projects are also off limits.
Plan your staycation just like you would an out-of-town vacation. Search the internet for activities and attractions. You'll be amazed at what you don't know about your hometown!
Explore low- or no-cost options. Camp in the back yard, picnic in the park, explore hiking trails, cool off at the community pool or water park.
Make your own scrapbook with photos and mementos of the family fun.
The point of any family vacation is to have fun together, relax and recharge. You can do that without spending money you don't have. The staycation is one way to live like no one else, so one day, you can live like no on else.
Bigger Budgets
The only way to miss a deal on a vacation right now is by not looking. The economic downturn has hit the tourism industry hard. It's possible to find hotel rooms for $10 in Las Vegas and Caribbean cruises for $45 a night—and we're not talking roach motels or the Flying Dutchman, either.

Ready to start saving? Get started with a free trial of Ramsey+ today.
Decide where you want to go, and start researching to find some great deals:
Most hotels offer freebies like breakfast, discounts on local attractions or free additional nights—so be sure to ask.
Plan your vacation in off-peak times for better rates; May and September are off-peak months for many destinations. If you fly, you'll get better deals on Tuesdays and Thursdays.
Research local attractions for special deals on admission; plan some low- or no-cost activities like a picnic at the park or a tour of the capitol.
The internet is a great place to find deals as well as scams, so it's a good idea to confirm everything by phone to avoid expensive surprises.
The key here is to budget, save, and plan ahead, and you'll get more vacation for your money.