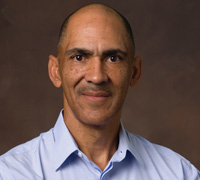 In the NFL, there's only one goal—winning. But for Tony Dungy, former head coach of the Indianapolis Colts and best-selling author, one of the top moments of his life came after an epic failure. In 2002, he was fired as coach of the Tampa Bay Buccaneers after six seasons with the team. A year later, his former team won the Super Bowl without him. He was over the moon.
Why was he so proud? Because the team accomplished the goals they made with Tony during the previous years. Even without their coach, they were unbelievably unified, which was the topic of last week's EntreLeadership podcast. Host Chris LoCurto talked to Tony about unity and leadership, plus a whole lot more. But like all good things, it had to come to an end. Luckily, we were able to capture the rest of Tony's interview.
What leaders, legendary or living, do you admire most?
There are really several people. Nelson Mandela is a person who I've gotten to know about since my daughter went to South Africa. Going over there to visit and seeing someone who cared more about his people than his personal problems was really stunning to me.
I grew up in the Civil Rights era, so obviously Martin Luther King. I was with George Bush after we won the Super Bowl. He talked about giving the order to go and fight, realizing that it was going to cost a lot of American lives. He really believed it was the right thing to do. People like him, those in leadership positions who make the tough decisions, are who I admire.
What books have most influenced your career?
John Wooden's autobiography influenced me in terms of coaching. Coach Wooden won a lot in a way that was very dignified and very Christian-oriented. It made me realize you could do things the Lord's way and still be effective as a coach. Here was one of the greatest winners in the history of college basketball, and he put the Lord first. As a young coach coming up in the profession, it was very encouraging.
After (Philadelphia quarterback) Michael Vick was sent to prison, you began mentoring him. Tell us just a little bit about that.
When I went to see him, I found out about his background. What struck me was that all the benefits I enjoyed, all the lessons I learned from my dad and people around me, like my uncles, he didn't have. He was blessed with a lot of God-given ability, a great platform, a lot of money and playing in the National Football League; but he didn't have the foundation I had. And so, he made some mistakes.
Then, the question became, "What are you going to do once you get out?" You can't change history, but you can change where you are going. We talked about it, and I felt like he was sincere in his desire to change.
Michael told me one of the toughest moments he had in prison was getting a letter from a young boy who said. "Michael Vick, you are my favorite player. Why aren't you playing?" Michael had to write back and tell this young kid who was a fan, "I'm not playing because I have made some mistakes in my personal life." Michael said he wanted to get back to show that boy that he made some mistakes but wasn't a bad person.
When he was telling me that story, I just felt like he was going to make it. I didn't know he would come back and play as well as he's played. I felt like he was going to make it personally.
Was your goal to get Michael Vick to return to the NFL?
My first desire was to get him back with his family. So, we talked about it. I told him, "Hey, you grew up without your dad there. You don't want your kids to grow up the same way. That's the first thing you have to do. And then, we need to look at your decision-making and lifestyle." Football was after all that—way, way secondary. I think that's why Michael did so well. He put the right things first.
The Easier Way to Make Hard Decisions
Making the tough calls isn't simple or pretty. But as an EntreLeader, it's part of your job. On our next EntreLeadership podcast, Dave discusses the easier way to make those hard decisions. Plus, we'll have a special interview with Jim Collins, author of Good to Great, Built to Last and How the Mighty Fall. It's a broadcast you won't want to miss!