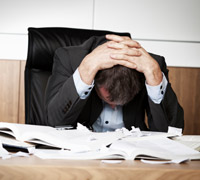 As an employer, you want your team members healthy, happy and full of passion for what they do. It's the best way for them to work at their peak and for everyone to win. Unfortunately, for more than one-quarter of American workers, being satisfied at work is anything but a reality.
In a recent poll by the American Psychological Association, one-third of Americans are living with extreme stress. In 74% of respondents, the primary source of that anxiety was their jobs. In fact, workplace stress has become so prevalent in this age of layoffs and long work hours, that this psychological condition has been nicknamed the Black Death of the 21st century.
Okay, maybe the people who work in the office of official nicknames are being a bit over-dramatic, but nevertheless, stress can be dangerous. It's been linked to:
Cardiovascular disease
Depression
Burnout
Workplace injury
Back problems
All of the above complications lead to absenteeism, turnover, decreased productivity and increased medical, legal and insurance expenses. That, in turn, stresses you out!
The good news is that you can lower the level of anxiety for your team members and yourself. As Dave teaches in EntreLeadership Master Series and in his new book, EntreLeadership, there are a number of ways to keep your team members far away from freak-out mode. Here are a few to get you started.
The Right Fit
Have you ever been in a job that just wasn't a good fit for you, but you tried to make it work anyway? It's miserable and nerve-wracking. The same holds true for your team members. If they're not the perfect fit for a position, they're going to dread coming to work. The end result will be that they won't stick around long, whether it's their decision or yours.
Jim Collins, author of Good to Great, says it's as simple as making sure you have the right person in the right seat on the right bus. It allows everyone to do their best work. At Dave's company, each prospective team member goes through at least four interviews. They are also required to take a personality test to make sure their style fits the job.
Your Team Matters
Dave's friend, Rabbi Daniel Lapin, wrote a wonderful book called Thou Shall Prosper. In it, he says God is inordinately pleased when we are obsessively, compulsively consumed with the needs of others. That's an easy one to understand as far as your family, friends and customers go. But do you apply this principle to your own team members? Are you doing what's best for them? Love your team well; treat them like family, and they will act like family.
Communication
You know the old saying, "No news is good news"? It's awesome if you want to build a culture of distrust and frustration. In fact, according to a Deloitte's 2010 Ethics and Workplace poll, 46% of those surveyed cited a lack of transparent communication from their leadership as the main reason for dissatisfaction at work.
Communication is the lifeblood of an organization and the grease that keeps the gears moving. Everyone feels better when they know what's happening. Make it a habit of over-sharing with your team members, whether it's good news or bad. When they know what's going on and what's being accomplished, they'll feel like part of the team and trust their leaders.
Financial Wellness
Another leading cause of stress for your team members is personal financial problems. In fact, it's the number-one reason workers lose focus and become less productive. Those who are in financial trouble spend up to 20 hours a month worrying about their problems while on the job.
That's why Dave requires each prospective team member to submit a personal budget before they are hired. He wants to make sure they can live on what he is paying for the position. As a leader, he believes it's his job to serve his team well by making sure they can take care of their family and meet their obligations with what they are paid.
An additional sure-fire way to decrease money worries is by offering a Financial Wellness benefit. This program teaches your team member to take control of their money and make it work for them, eliminating financial stress.
Recognize Them
People, no matter how young or old, yearn for recognition. Telling someone they are doing a good job can instantly put a smile on their face. Look for opportunities to brag on your people. Do it in front of others, especially those they care about, and it's three times as powerful. A word of warning, though: Your compliment has to be sincere. Cheap flattery will get you nowhere. In fact, it demotivates instead of inspires.
Making your company an awesome place to work, where stress is low and motivation is high, creates an atmosphere of winning for your team and the business. Then, you can kick that "Black Death" out of your office for good!
No leader should lead without these principles. It's what your team members need to see in you, and what you want to see in them. Learn more about the EntreLeadership Live Events, and put Dave's 20 years of proven business principles to work for you.
In 20 years, Dave has grown his company to a national winning brand with more than 300 team members who have impacted millions of lives. His company has been named one of the "Best Places to Work in Nashville" four years in a row. EntreLeadership is how he's done it and how you can do it too. Get your copy of the new book now!