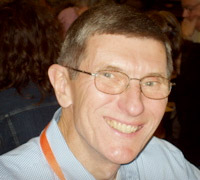 Stewardship Education For All
"This is for
everyone at all points along the financial continuum
," Dick Towner, Executive Director of the Good $ense Movement of the Willow Creek Association, said.
Getting people engaged and involved in various ministries is one of the biggest hurdles many church ministries face, and stewardship is no exception. "I wish I had a magic bullet for hundreds of people to show up for stewardship classes," said Dick Towner, Executive Director of the Good $ense Movement of the Willow Creek Association. "It's a huge paradox. Anyone you talk with in the church world will agree that this is an important topic, but there's a very strong reluctance to address financial issues."
Money issues are destroying marriages, limiting resources for the kingdom, causing guilt and stress and, most significantly, creating a barrier to spiritual growth. People need help. They need tools for understanding biblical principles about money. "Getting people to take action is a different story," Dick said.
The good news is the tide is starting to turn. Many church leaders are catching a vision for helping their people through financial discipleship and stewardship training.
Here are a couple of preconceived notions the congregation may have that need to be addressed:
1. "Stewardship ministry is only for people who are struggling financially."
"If people think the ministry is only for those in financial distress, who is going to come then?" Dick said. "You don't want your stewardship ministry to be labeled. Plus, it's grossly untrue that stewardship training is only for those who are struggling."
There are some poster children at Willow Creek, like Charlie. He was an investment counselor making a lot of money for 21 years before he came to Christ. When a church leader asked him to take a basic budget course as a new Christian, he said he was somewhere between insulted and ticked off!
But he did it anyway, and it turned out to be absolutely life-changing. "Charlie had no idea there were biblical principles about money," Dick said. He and his wife had so much disposable income that they'd never even made a budget.
When they started budgeting, they were appalled at how much they were spending. As new Christians, they adjusted their behavior. It freed up money for them to be generous with, and they experienced the joy of giving like they never had before. On top of that, their marriage began to blossom.
"This is for everyone at all points along the financial continuum," Dick said. People need to understand that from the get-go.
2. "This is just another way for the church to try to get me to give more money."
We have to help people understand what we want for them, not from them. "What we want for them is a joy, peace and freedom in this area of life, which for most people are in short supply," Dick said. "When we help them experience that and get their financial life in order, their giving to the church will in fact increase. But that cannot be our primary motivation."
How do we remedy the problem? "Don't just talk about stewardship in the context of giving," he said. "We shoot ourselves in the foot when the only time we talk about money is during the annual 'lamentation of desperation' for the church budget—aka 'Stewardship Sunday.'"
When that happens, Dick says stewardship becomes synonymous with giving to the church, which is a horrendous misconception.
But many churches ask this question: We're seeker-sensitive, so how can we talk about money?
If you feel like there will be a lot of seekers in the audience, Dick recommends saying something to the effect of: "We're going to use the Bible as our reference point and talk about the biblical principles surrounding giving, saving, spending and debt. Whether you're a Christian or not, the Bible is a great economic textbook. If you follow what the Bible has to say about these subjects, you're going to be a lot better off financially."
Knowing about these misperceptions is not a reason to shy away from talking about money in church. Quite the opposite! It's all the more reason to share the message boldly, knowing the opposition you may face and how to combat it.
Dave Ramsey has created a program called Momentum to help you talk about issues just like these in your church. By bringing people back to God's view of money, a culture of lasting generosity will naturally occur over time. Discover today how Momentum can help your congregation.
About Dick Towner
Dick Towner, Executive Director of the Good $ense Movement, has watched thousands of churches develop thriving stewardship ministries. Years ago, he developed a stewardship curriculum called Good $ense that has been used to teach biblical stewardship in over 5,000 churches across the nation.