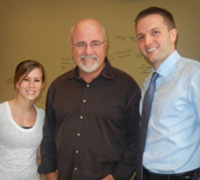 Brad and Jodi Are Debt Free!
Dave congratulates this young couple on paying off more than $100,000 in less than three years.
For a lot of couples in their mid-twenties, life revolves around debt—student loans, credit cards, car payments, 30-year-mortgages. That's just life, right?
Brad and Jodi Tucker disagree. That's not "just life."
The Tuckers were headed down that road a few years ago. But common sense, in the form of Dave Ramsey's radio show, slapped them in the face and changed their mindset about money.
At the time, they had more than $100,000 in debt while making a little less than $100,000 in income per year. Getting out of debt only took the couple two-and-a-half years.
They currently live in Nashville and recently made the trip across town to Financial Peace Plaza. The couple made their debt-free call live on The Dave Ramsey Show from the lobby, met Dave, and received a lot of congratulations and encouragement from Dave's team and other visitors. Listen to the entire call.
Before the Tuckers shouted, "We're debt-free!" on the radio show, Dave asked them a few questions.
What made up your $100,000 of debt?
Brad: About half of it was in student loans. We had a truck and a car we couldn't afford. We had a couple of other things we couldn't afford, so we had to sell stuff and negotiate down some debt.
So what made you think you could pay off 100,000 in debt?
Brad: I heard this crazy guy on the radio as I was driving down the road. I'm in sales, so I'm always in my car. And I just kept listening to you. After a few times, I told my wife about it, and she was actually ready to get on board. I told her the "why" and then the "how," and it worked out pretty good.
What was the hardest thing you guys experienced during this process?
Brad: Telling people no. We have the most sociable group of friends on the face of the earth. If they aren't going on a trip, they're going out to eat, and there is just always something going on. And we had to tell them "no" about 95% of the time.
Less than three years ago, the Tuckers decided to dump their debt, build wealth, and change their family tree. Where could you be three years from now?
If you started right now, with the same type of gazelle intensity the Tuckers had, you could be seriously wealthy one day. And you know that means? You'll be able to buy things for each other. You'll be able save a lot of money. And, most importantly, you'll be able to give like never before.
That's what a debt-free life looks like. That's what the Tuckers discovered. And, if you're not already working a debt snowball, we hope you'll follow their lead soon.
Whether you are 23 or 83, it's never too late to get started taking control of your money.