Getting out of Debt
The True Achievement Test of a Teacher's Life's Work
Once upon a time, a high school student named Danielle was a bright, young teen in Kitty Robinson's personal finance class in suburban Phoenix. Today, this remarkable young woman is winning with money thanks to a passionate teacher and the principles found in Dave Ramsey's high school curriculum, Foundations in Personal Finance.
Living her dream
The impact of Foundations began to hit home for Danielle during her college years.
"At first, I started off college as a political science major, but then I remembered how much I enjoyed Mrs. Robinson's class, and I took a finance class in college for fun," says Danielle, who ended up adding two more majors—finance and economics—to her political science degree. "I took the personal finance lessons to heart and created a plan to cover expenses I would have when I started living in an apartment."
Based on her calculations, Danielle decided to do something straight from the pages of a modern fairytale: She learned how to hunt and fish—two things she had never done before. This college student cut her meat budget down to nothing and allowed herself only $20 a week for veggies, fruits and everything else!
"She's quite a young woman," says Kitty. "Here she is living her dream, doing something that people her age don't do—self-sustained by hunting and fishing—while living on a budget!"

Get a FREE customized plan for your money in 3 minutes!
And thanks to her creativity, Danielle recently graduated from Northern Arizona University with the freedom to pursue yet another dream: a career in the Air Force.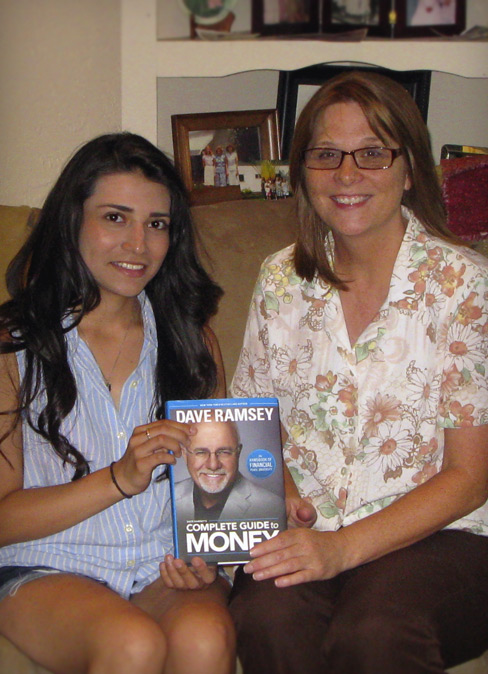 Teaching common sense
Although Kitty (shown with Danielle at left) is now the career and technology education coordinator in a neighboring school district, she couldn't be more proud of Danielle and many others. Their achievements are the true measure of her life's work.
"For most of them—even those who weren't quite getting it in school because of the personal challenges they were facing—something stuck," she says. "And for the most part, they are living on a budget, staying out of debt, spending less than they make, and making sure they have appropriate insurance coverage—which to me says a lot."
Many students would come into her class without even the basic knowledge of how to save or budget. These were earth-shattering concepts for most kids, and they were eager to learn something other than what they were seeing at home.
"Kids are living the poor decisions their parents have made with personal finance," she says. "They want to change. They want to live freer. They want to have more choices. They want to handle their money in a way they're not seeing their parents handle it."
Following a new path
In the mid-1990s, Kitty and her husband, Rob, were young parents living paycheck to paycheck. They weren't in tons of debt, but they weren't getting ahead either. By 1996, the couple made the mistake of refinancing their home with a balloon mortgage.
"We paid two to three mortgage payments every month," she says of their struggle to meet the looming pay-off date. "Life really came to a standstill for us until May 17, 2000, when we paid off the house."
It was during this time that Kitty and Rob volunteered at one of Dave Ramsey's live events in Phoenix. They were energized by what they heard, and they decided to plug into one of Dave's community classes to learn how to handle their money God's ways going forward.
After counseling adults, Kitty soon realized the need to introduce Dave's high school curriculum, Foundations in Personal Finance, into the classroom setting. Through Foundations, she's now equipped more than 400 students to take control of their money and follow their dreams.
"The takeaway for them is hope," she says. "They actually see a system that works. The students know they can do things differently—and probably better. That gives them hope to not have the worries or the depths of worries that their parents have."
For more information about Foundations in Personal Finance or to be connected to a Curriculum Advisor, please visit us at RamseyEducation.com/teacher. Check back each week this summer to read more about how America's teachers are changing lives.