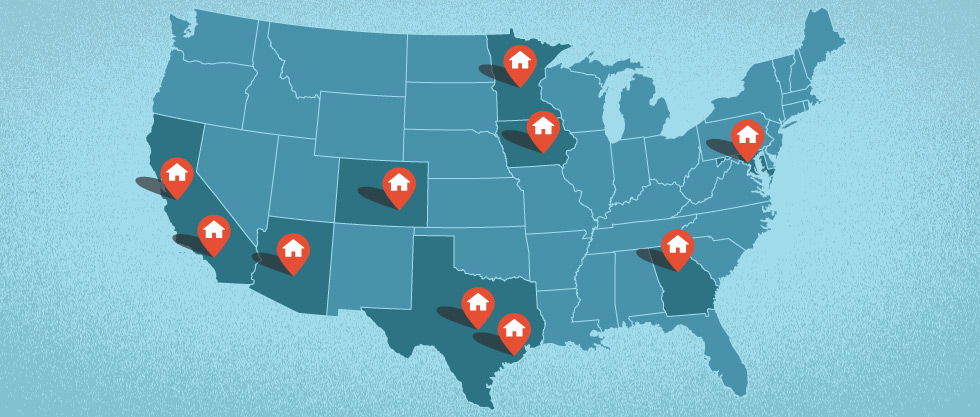 If you're planning to buy or sell a home this year, you might be wondering exactly where the hottest housing markets are these days. Realtor.com put together a list of the top 10 markets for 2015 based on more than a dozen factors including affordability and employment opportunities. Here's what they came up with:
Atlanta: home sale forecast up 11%
Dallas: home sale forecast up 7%
Denver: home sale forecast up 14%
Des Moines: home sale forecast up 9%
Houston: home sale forecast up 5%
Los Angeles: home sale forecast up 6%
Minneapolis: home sale forecast up 9%
Phoenix: home sale forecast up 7%
San Jose: home sale forecast up 7%
Washington, D.C.: home sale forecast up 10%
If you're a prospective home buyer or seller in one of these cities, congrats! You can expect strong housing growth, affordable prices and fast-paced sales, according to Realtor.com.
If you don't live in one of these cities, don't lose hope! The realty website predicts new home sales will increase by 25% nationwide next year. But all the positive predictions in the world won't do you any good if you're not prepared to take advantage of the strong real estate market while it's here. Take a look at some of our tips for buyers and sellers looking to capitalize on the continued real estate rebound.
Buyer Basics
In hot real estate markets, buyers are often frustrated when homes they're interested in are snatched up before they can even make an offer. Make up your mind to be the snatcher and not the snatchee by having all your financial ducks in a row before you start looking for homes.
Make an All-Cash Offer. When it comes down to an offer that's contingent on financing or an offer that's all cash, sellers will choose the all-cash offer nearly every time. It might take some time, but paying all cash is doable—and it's Dave's favorite way to buy a home!
Confirm Your Mortgage Preapproval. If you're getting a mortgage, get pre-approved for a specific loan amount with your lender so you can make an immediate offer when you find your perfect home. Improve your chances of a quick approval by having a good-sized down payment, and keep your monthly payments to less than 25% of your take-home pay.
Dig Up Deals With a Buyer's Agent. Get a leg up on your competition by working with a real estate agent who's an expert in the market you want to buy in. Your agent will scope out each new possibility in your price range as soon as it goes on the market—maybe even before!
Steps for Sellers
As more homes come onto the market, sellers may have to put in a bit more effort to make a first impression that outshines other homes. Here are a few tips to help you achieve it:
The Price Must Be Right. The best way to knock yourself out of contention with prospective buyers is to overprice your home. Set your home's price based on facts like recent sales prices of comparable homes in your area, because that's exactly what buyers will base their offers on.
Sell the Experience. A home is much more than a list of features and square footage stats. It's a place to live and work and make memories, and it's that experience that will make buyers fall in love with your home. Don't stop at making your home clean and clutter-free for showing. Make it cozy and inviting—a place buyers won't want to leave!
Cover All Your Bases With a High-Octane Agent. An experienced real estate agent can help you price your home to sell and give you specific advice about any repairs or updates your home needs to attract more buyers. Once you get an offer, your agent will negotiate on your behalf and see the deal through until closing. Their goal is to sell your home fast and for more money.
Find an Agent You Can Count On
Are you ready to take advantage of the hottest housing market of the last few years? Let us put you in touch with an experienced real estate agent with the heart of a teacher. Your agent is an expert in your local market and has earned Dave's recommendation for excellent service. Whether you're buying or selling this year, you can count on your agent to save you time and money. Get started today!