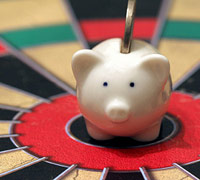 It's just plain fun to accomplish a goal. When you make a plan to do something and are focused, it's enjoyable to know that you'll actually get it done. It's not just idle talk. You're getting somewhere. You're aiming toward something. But those aren't the only reasons why you should set goals. Here are a few more:
Goals Are A Compass
People who don't make goals usually don't get anywhere, because they don't know where they are going.
Makes You Unique
A Harvard study found that the 3% of students who write down goals for their life accomplish more than the 97% who do not. Which group would you rather be in?
Fun Times
If you have debt, it's more fun to have a plan to get out of it than it is to have no plan and end up in more debt.
Keeps You Focused
Just like in hockey, the person who keeps an eye on their goal wins.
Accountability
Goals on paper stare you in the face until you do them. Without goals on paper, all you have is something you maybe kinda said you'd do a few weeks ago, er, something.
Carry-over
When you excel in one area of life (which goals help you to do), that excellence spills over to other areas. You can actually lose weight because you have the discipline to stick to a budget. Imagine that!
Make The Call
With focus, you earn the right to call Dave's radio show and scream that you are debt-free! Sweet deal, if you can get it. And with a goal of being out of debt, you can.
Be The Leader
Throw a rock out the window. You'll hit someone who only made a promise to exercise and lose weight, and it didn't last a month. With a goal, you can stand out from that group and encourage others to do the same.