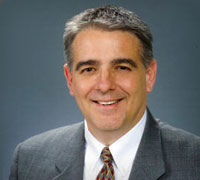 Toby Joplin is the vice president and CEO of a supply manufacturer, but somehow he's made the time to help 500 families learn to live like no one else. "I am a huge fan of Financial Peace University (FPU)!" he said.
In late 2007, he facilitated his first class in the workplace. He was working for a production company that produces Christian films, and 12 people were in the class. Since then, he and his wife, Colleen, have led FPU in a number of venues including Church at Battle Creek in Broken Arrow, Oklahoma, and the Tulsa campus of lifechurch.tv, in addition to other classes in the workplace. He and Colleen also volunteer at Dave's live events.
"We got a special treat on the morning of our Oklahoma City event: When we were eating breakfast in our hotel, Dave, his two daughters Rachel and Denise, and the Lampo team started filing into the restaurant and sitting all around us," he said. "It was great to get to meet them and hear their passion for what they do before they went on stage. It was easy to see that what they do is not a performance; it is a calling."
Toby shares the calling to spread the message of hope through FPU. We're honored to have people like him working with us to do it.
Hear about how and why Toby developed a heart for stewardship:
How did you get into leading FPU classes?
I was a long-time reader of Larry Burkett, Ron Blue, Austin Pryor, Barry Cameron and others. I was leading a recurring 10-week Bible study on stewardship and looking for something that could be used in the workplace and was "seeker-friendly." After a little due diligence, I found that FPU met both of those criteria. My first class was full of creative film people: producers, writers, directors—what Dave calls "Free Spirits." I knew that particular class would be like herding cats. Yet I was amazed by how engaged everyone was. For several years after that, I would occasionally receive a "We're debt-free!" phone call from those students. In fact, earlier this year, one of those students called me to say he had just finished the script for a new film. He never would have been able to pursue that project if he hadn't gotten himself to a place financially where he could focus on writing.
What drives you to keep volunteering as an FPU coordinator?
I have no problem keeping my energy up, because FPU is my passion. In fact, most weeks after my FPU class, I need time to wind down before shutting off the lights because I am more energized after class than before. Every week before class, I rewatch the video for that week to make sure it is fresh in my mind. My kids are pretty sure that I could "karaoke" all 13 videos if we ever lose audio during a class.
Also, Colleen has been my co-leader for most of my classes, handling the attendance, handouts and refreshments. I love the fact that this is a ministry that Colleen and I can work on together and are both excited about. It is a special blessing to be able to see our college-age kids living the FPU principles.
Why is stewardship a "big deal"?
I would encourage every church to offer Financial Peace University. I talk to so many successful FPU students who have been through other stewardship classes that just didn't "stick" for whatever reason. Dave presents the information in such a way that even the most undisciplined and non-financial person can enjoy it and apply it. FPU is also a great outreach. People who would not otherwise darken the doorway of the church hear Dave on the radio and sign up for a class at their local church. It is a head-scratcher to me when I hear churches talking about their giving being down and yet stewardship training is far down their list of priorities.
The fact is that a strong stewardship program can be an enabler for the other ministries in the church. My experience has been that most Christ followers want to be more generous givers, but they don't know how they are going to put their kids through college, fund their retirement, and in some cases, even pay their bills next month. Instead of "guilting" members into giving, we as the church can empower them. We can teach them that if they will "live like no one else," later they can "live—and give—like no one else!"
Why are you involved in The Great Recovery?
One thing I love about Dave's message, which comes through especially strong in The Great Recovery, is that the government is not our provider and is not responsible for our success. Everything we have and receive comes from God and our own initiative. I can't tell you how many times I have re-listened to, or forwarded to friends, the audio clip of Butt Scratching and Bass Fishing. If all Americans adopted that attitude, there would be no recession.
What would you tell other church leaders about the impact of FPU?
The one thing I would tell church leaders who are considering FPU is that if you offer FPU and follow everything Dave asks you to do in the Coordinator's Guide, I guarantee it will make a dramatic difference in your congregation—every time. Everything Dave offers is biblically based and theologically sound. Nothing other than my relationship with Christ has had a bigger impact on my spiritual walk than FPU.