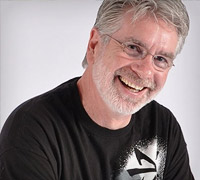 Dan Rockwell is an all-or-nothing sort of guy. So when the pastor and leadership coach realized he was ineffective, he closed his eyes, threw out his old ideas, and jumped—to a new type of leadership. The result? One heck of a dive that lead to a renewed zest for leading and a blog that is read by thousands, including some of the top business executives across the United States.
Dan's change of heart began three years ago. Eighteen months later, he launched Leadership Freak. Through the blog, Dan helps others develop the tools to fulfill their own higher purposes. He also passes along the wisdom of some of America's top business minds.
One of those minds is Dave Ramsey. Dan is a fan of EntreLeadership and has traveled to Nashville to attend an EntreLeadership 1-Day event. We spoke to Dan about his leadership journey and asked him for some of his best advice.
Not to sound too much like Oprah, but did you have an "a-ha" leadership moment?
Dan: It started when I took a month off one summer, which gave me time to think. I realized my leadership techniques were not working. I needed to face the music and make some changes. I felt like I had more in me, and I could be more effective. I just had to figure out how. In a sense, it was an indictment on 20 years of passive leadership. I thought to myself, You could have been so much more, you dope.
You've interviewed some of the top business executives in this country. Is there one trait they all have in common that makes them such great leaders?
Dan: One message I consistently hear is "Be yourself." When I interviewed Jim Parker (former CEO of Southwest Airlines) he said, "You have to be yourself or crumble. You can't keep pleasing everybody, and you can't do things for everybody." That's so true. I've learned that it's really about who you are more than what you do. Practice this, and you'll start reducing stress, finding freedom, and discovering real fruitfulness.
Can you give us some quick leadership tips that business owners can start applying today?
Intentionally know yourself. Spend time in self-reflection asking questions like:

What am I doing that's most satisfying?
Why am I doing what I'm doing?
What am I learning?
Am I doing things that consistently don't work?
Where is this path taking me, and do I want to go there?
Aggressively develop yourself. Read books, attend seminars, and find a coach, mentor or trusted advisor. Be sure to step beyond your current circle of influence. Find people who challenge rather than affirm you.


Systematically stretch yourself. The skills and strategies that create entrepreneurial success at the beginning won't sustain success over the long-term. Comfort zones are death traps that limit potential. Refusing to enhance or adjust old strategies creates the frustrating white-knuckle syndrome, where leaders won't let go of plans and tactics that have stopped working.
Dan Rockwell is, without a doubt, an all-or-nothing kind of guy. For those who are searching for the true meaning of leadership, they are glad he is. In that spirit, we have our own words of advice for him: Keep on jumping Dan. Simply keep on jumping.
Dan Rockwell is pastor of Good News Bible Church in Williamsport, Pennsylvania., and a workforce development/leadership consultant. Besides his blog, which is viewed by thousands of readers each day, he coaches leaders and presents seminars on leadership and management. To find out more about his blog, go to leadershipfreak.wordpress.com.