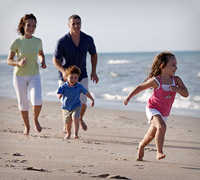 Pick your traveling pleasure. The beaches of Florida or the music of the French Quarter. Some may go camping, others will go cruising, a few might go skiing.
Whatever destination you may select to celebrate the warmer weather, be smart when hitting the road. Too many people don't plan ahead when going on vacation, and it ends up costing them money and convenience. Here are some tips for avoiding unnecessary vacation expenses:
Take plenty of time to plan a vacation, and don't get carried away by the excitement of going somewhere. By calming down and planning ahead, you'll avoid paying for things you won't use. Plus, it will give you more time to save up money. Few things in life are better than being on vacation and realizing you're not going to come home to a huge credit card bill for the trip.


Get started on the details and booking process early. If you wait until right before you want to leave to get reservations, prices are often higher, and availability is lower.


Shop around for the best vacation deal, set a travel budget, and always pay with cash. This can be a good place to use negotiation. If you use cash you might get a discount, and you can also see if other travel companies will match the offer.


If you need to secure a hotel room or rental car before you arrive, use a debit card. If the particular travel company, hotel or rental car place doesn't take debit cards (just a few don't), find a place that does. They are plentiful.


If you are flying, choose an off day of the week (Monday through Thursday) to fly. These flights are usually cheaper.


Take advantage of using traveler's checks. Many people who travel want to use credit cards because they are afraid of having their cash stolen. If you're afraid of being ripped off, go to the bank and get traveler's checks, which can be replaced if stolen.


When you take traveler's checks, keep the receipts separate from the actual checks. If you keep the checks and the receipts together and both get stolen, you're out of luck. Keep them apart, and know where each one is.


If you have the time, it might be better to drive to your destination instead of flying. You'll save money over the cost of airline tickets, plus it will give you a chance to spend more time with your family and friends. You might even be able to stay with friends or family on the way there, which can save you hotel costs.


If you're staying at a rental property or condominium, consider traveling with another party to split the cost.
Don't fall victim to travel scams! If you use a travel agency, get references from friends and family who have used them before, and ask plenty of questions. Never buy an unsolicited vacation package over the phone or take an offer that comes through your fax machine. Don't forget the two most important rules: use cash and have fun!