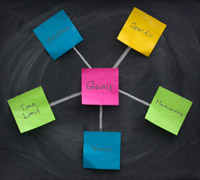 Ah, February. The month of love, relationships, chocolate and roses.
It's also when too many people throw in the towel on their goals.
In a recent New York Times article, it was reported that 33% of those who made New Year's resolutions on January 1 officially bailed on them one month later. Maybe we're distracted with all the love that's in the air?
Well, there are many Dave Ramsey fans who are sticking to their plan and working toward achieving great things this year:
I have stuck to my life-changing eating plan. I have lost 14 pounds and my daughter has lost 10. —Michelle P.
Still eating healthier and drinking more water. Losing weight a few pounds a week and feeling better. Getting bills paid off, car and credit card paid off. One more credit card to go! —Linda S.
Still going strong with my 52-week plan: $52k to pay off and 52 pounds to lose in 52 weeks. Week 5 and I'm still on track! —Katsia T.
My New Year's resolution was to continue to grow my business and so far so good, even in January, which is notoriously the slowest month in my industry, AND with moving into our new home and traveling for a full week of the month. 2012 looks great! —Sarah G.
I haven't bailed. It's not as easy as I'd like and I've made several mistakes. But there is still hope as long as I keep trying! I just have to renew my commitment to staying on track each and every day, especially if I screwed up the day before. I will reach my goals! —Brandy L.
I'm happy to be one of the 2/3 that's still hanging in there. My mountain of debt and collection of love handles is far too great for me to quit trying! —Amy C.
Running 10 miles a week? Haven't done it, but haven't bailed, either! My goal was to be running that much by March. —Mitzi R.
My resolution was to quit smoking. Still doing good. Day 32. —Amanda M.
Made nine 2012 goals this year. On track for all of them ... including debt free of all consumer loans. Next year, we tackle the student loans. Whoo-wah! —Karen M.
Still going strong getting out of debt. Already paid off $6,200 since 1/1/2012. —Janeita G.
Tell us how you're staying on track with your goals this year and not giving up. Leave a comment below.