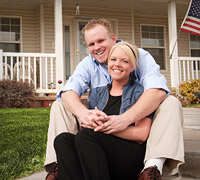 By Dave Ramsey
A study by the University of Michigan's Institute for Social Research found that the median household net worth of people in their 20s fell by nearly 30% from 2003 to 2005.
Larry Burkett used to say we spend the first five to seven years of our marriage trying to attain the same standard of living as our parents. It only took them 35 years to get there.
Married or single, 20-somethings are doing the same thing. Everyone tells them renting is bad so they buy a house plus furniture, a big screen television and stereo surround sound.
It is human nature to want stuff and want it now; it is also a sign of immaturity. Being willing to delay pleasure for a greater result is a sign of maturity. However, our culture teaches us to live for the now. "I want it!" we scream, and we can get it if we are willing to go into debt. Debt is a means to obtain the "I want its" before we can afford them.
Debt is so ingrained into our culture that most Americans can't even envision a car without a payment, a house without a mortgage, a student without a loan, and credit without a card. But debt adds considerable risk and isn't used by wealthy people nearly as much as we are led to believe.
The Forbes 400 is a list of the richest 400 people in America as rated by Forbes magazine. When surveyed, 75% of the Forbes 400 (rich people, not your broke brother-in-law with an opinion) said the best way to build wealth is to become and stay debt-free. So how do you get started?
Do a budget and stick to it.
A budget is not a torture device—it's you telling your money what to do instead of wondering where it went. Most people who call my radio show say doing a budget is like getting a raise. A budget doesn't mean you can't have stuff—I want you to get some stuff—but save up so you can pay cash.
Save for emergencies so you don't have to rely on credit cards.
First save $1,000 to cover small emergencies, like flat tires and medical co-pays, while you get out of debt. That way when little unexpected things happen, you won't have to reach for the credit card and go further into debt to cover it. Once you are debt free, save three to six months of expenses for a fully funded emergency fund to cover larger emergencies like job layoffs and unexpected pregnancies.
Get out of debt and stay out.
According to USA Today, the average college senior graduated in 2006 with more than $19,000 in debt. That's a lot of debt for someone just starting out! Instead of only making minimum payments and letting the debt escalate—get crazy and knock out the debt as fast as you can. If you didn't have a car payment, a student loan, credit cards out your ears, medical debt, or even a mortgage, you could become wealthy very quickly.
Dave's new college curriculum empowers college students to take control of their money and begin building wealth. Learn more about it.