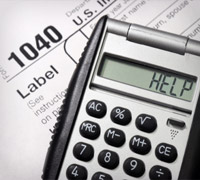 While you might think you have until April 15 to finish your taxes, that's not really the case. Your tax specialist's schedule is quickly filling up. If you wait to schedule an appointment midway through March, chances are good you'll have to file an extension. So avoid the headache and get started now by following three steps:
1. Gather all your tax forms.
Your tax specialist will need all your tax forms to file your taxes. This includes W-2, 1099 and any giving statements you received from church or charities. You'll get your W-2 from your employer. You might also get a 1099 for each of your savings, investment and retirement accounts. Your employer and financial institutions should have mailed your forms by now. If you havent received your forms, call to request another copy.
2. Call a tax specialist.
If you feel comfortable using software to file your taxes, have at it. However, Dave doesn't recommend using software to file taxes. If something goes wrong or you get confused, who can you turn to for help? A paid-by-the-hour customer service agent who attended a one-day training session? No, thanks!
Always get the advice and help of a tax professional. There are many benefits to hiring one, including the confidence that your taxes are done right the first time.
3. Show up prepared.
You can practice all day, but if you don't show for the game, you're going to lose. Show up to your meeting on time. Bring all your forms. Also be sure to bring your direct deposit information in case you receive a tax refund. You'll get your refund much faster with a direct deposit than waiting for a check.
By doing these three things, you're sure to get your taxes done right. But again, you need to get started now if you haven't already!
Need a tax specialist? Our Tax Services Endorsed Local Providers (ELPs) are professional CPAs and enrolled agents who can get you every deduction for which you qualify. Remember, it's your money. Make sure you get everything you deserve! Find the Tax ELP in your town today.