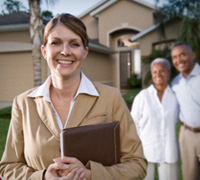 The National Association of Realtors recently reported that more homeowners are buying homes without the assistance of a real estate agent. In 2010, only 57% of buyers who purchased their homes had a buyer's agent, an agent who showed them properties and helped negotiate their contracts. That's down from 62% in 2009 and 64% in 2006.
According to separate research, however, buyers who use a buyer's agent pay an average of 5% less than buyers who don't, a difference of $7,500 on a $150,000 house. That's because a good real estate agent has three tools the average homebuyer doesn't—tools that result in a better deal for you.
Information
It's true that all the specifics of any home for sale anywhere in the country are available online. But a home's online profile won't reveal how many other homes in the neighborhood are currently for sale, how many are in foreclosure, whether that neighborhood is growing or declining, or any number of factors that would influence the home's value—maybe even your decision to buy it.
A good real estate agent makes it her business to know all those things before she shows you a home. That way, you don't waste time looking at homes that aren't right for you, and you don't waste money paying more for a home than you should.
Negotiating Skills
You can't and shouldn't depend on the selling agent to work for your best interest when you're negotiating the sales price of a home. They work for the seller. You need an agent with the same skills and knowledge working for you.
As we pointed out above, you're likely to pay more for your home if you try to negotiate your home purchase yourself. And, in most cases, a buyer doesn't pay extra for his agent's services because the buyer's agent splits the commission with the seller's agent.
Experience
How many homes did you buy or sell last year? How many life-changing contracts did you negotiate? Do you know everything there is to know about title insurance? What about home inspections? Appraisals? Property lines?
High-powered, experienced real estate agents deal with these questions every day—and they know the answers, or they know how to get the answers. Don't fumble your way through these home-buying hurdles.
Dave always recommends you consult an expert for important financial commitments like buying a home. Even Dave, who's been an extremely successful real estate agent himself, depends on his real estate agent too.
Find Your Agent
If you're buying or selling a home this year, one of Dave's real estate Endorsed Local Providers has the experience, skills and knowledge to save you time and money. Get in touch with your ELP today!