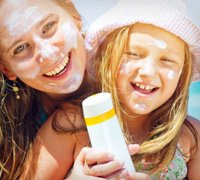 Look at your left arm.
Do you like it? Do you really like your left arm? Isn't it just awesome?
Now imagine your left arm with a red, nasty sunburn—the really painful kind of sunburn. You know, the type that leaves you bathing in aloe for a week and cursing anyone who breathes in your general direction.
Isn't that an awful thing to do to your awesome left arm? It absolutely is.
But those are the types of things that happen when you don't budget for your summer vacation. You get stuck on a beautiful beach without sunscreen because you spent all your pre-vacation money on flip-flops and sunglasses.
Your eyes love the protection, and your feet are free to breathe—all while your poor, once-colorless, naturally pale left arm must endure the sun's fiery flames.
Vacation doesn't have to be that way. You can keep your left arm happy and healthy by simply planning ahead.
Other than the obvious stuff, here are a few things to keep in mind while budgeting your summer vacation:
Pet Care
Is your chihuahua, Tinkerbell, going on the trip with you? If not, who's keeping her? Will she be staying at a doggie hotel or at a friend's house? Do you dare leave Tinkerbell to fend for herself in the backyard? Does she have a week's worth of food? All of that costs money. Don't forget about Tinkerbell. Read more: Our pricy pets making us broke?
Snacks
Few things in life are more disgusting than a dry mouth on the beach. Okay, maybe it's more than just a few things. But you've got to admit, in the middle of all that grainy sand, dry heat and wind, a cooler filled with a medley of crackers, sandwiches and refreshing water is a welcome treat. If you can buy all that stuff in bulk before you leave, then do it—especially if you have kids. As you probably know, kids tend to eat a lot of food.
Souvenirs
You know what else kids like? Stuff. Like plastic dolphins and shark's teeth and a bongo drum with a painted bird on it. And, hey, if you want an airbrushed shirt that says "Kevin Loves Lisa" with palm trees and a setting sun in the background, who are we to judge? But those personalized memories aren't cheap. You might not realize it, but everything within 10 miles of an ocean is 100% more expensive.
Car Maintenance
Are you driving? If so, don't become one of those sad families stuck on the side of the interstate in South Georgia because dad forgot to change the oil. That burned-up engine will send your vacation budget into flames. Way to go, dad. Find out if you should buy rental car insurance.
The Unexpected
Think of this as your "blow money" on vacation. Vacations are unpredictable, so you need to budget in that unpredictability. Junior might get stung by a jellyfish. After five days of seafood, you'll surely need to make a Prilosec run to deal with that nasty acid reflux. It might rain one day, prompting you to rent and watch season four of Saved By the Bell. Or maybe your 3-year-old decides to make a self-portrait on the bathroom wall. Something unexpected always happens.
Vacation is supposed to be fun, but budgeting for it sounds so … boring.
Maybe it's not as fun as snorkeling with dolphins, but it's absolutely necessary, because snorkeling with Flipper isn't cheap. You need to make sure you can pay for that before you take the dive.
Budget now, and you'll be thankful later.
Many families will go on ridiculously fun trips now, and still be paying for it in September. Don't become one of them! Now's the perfect time to reset your family's money goals so when things speed back up in the fall, you're on track. Learn how to control your money and vacation wisely now and in the future. Find the Financial Peace University class near you!
What have you learned to budget for on vacation? Leave a comment below!