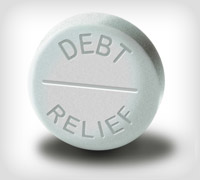 Myth: I can get quick debt help over the phone or Internet.
Truth: True debt help is not quick or easy. It starts in the mirror with you.
Where do most people go for debt help? Most people try credit repair companies, debt consolidation, debt management or bankruptcy. Companies touting quick, pain-free fixes are really scams that cause more harm than good. These services almost never help solve the true debt management problem—one's behavior.
Most people don't know that financial planners make almost all of their money by selling you a product such as life insurance or mutual funds, instead of spending time counseling you. They're not evil; they just don't get paid to help you get out of debt. We provide true debt help by focusing on the real problem—you.
The Total Money Makeover
So my Total Money Makeover begins with a challenge. The challenge is you. You are the problem with your money. The financial channel or some tape sets aren't your answer; you are. You are the king of your future, and I have a plan. The Total Money Makeover plan isn't theory. It works every single time. It works because it is simple. It works because it gets to the heart of your money problems—you. It is based on a series of prices that must be paid to win. All winners pay a price to win. Some losers pay a price and never win, and that is usually because they didn't have the benefit of a proven plan for financial fitness.
Is it easy? No. In fact, it's really hard most of the time. But it's worth it. For over 15 years, we've been teaching people how to get rid of debt forever. Now with over four million listeners to our radio program, The Dave Ramsey Show, over 750,000 families through our Financial Peace University program and millions of visitors a month to our website, people are getting out debt by practicing good debt management. The Total Money Makeover is a great book to begin your financial makeover.
Success Stories
"We needed direction. We started the Total Money Makeover plan and got on the narrow road to financial peace. We'll have paid off $11,000 in eight months and are well on the road to debt freedom!" —Kathy and James Smith
"We've actually relieved ourselves of over $50,000 worth of debt in two years just from using these principles." —Russ and Mary Lee