Getting out of Debt
The Truth About Getting Debt Help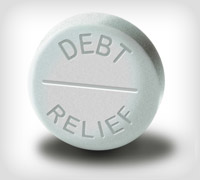 How Can I Get Debt Help?
You can get quick debt "help" over the phone or online, but true debt help is not quick or easy. Companies touting quick, pain-free fixes are really scams that cause more harm than good. These services almost never help solve the one thing keeping you in debt—your spending habits.
You see, when you consolidate your debts or work with a debt settlement company, you'll only treat the symptoms of your money problems and never get to the root of why you have issues in the first place. You don't need to consolidate your bills—you need to delete them. To do that, you have to change the way you view debt! Even though your choices landed you in a pile of debt, you have the power to work your way out! You just need the right plan.
Can Debt Consolidation Reduce My Debt?
Debt consolidation and debt settlement companies don't help you slash mounds of debt. In fact, you end up paying more and staying in debt longer because of so-called consolidation because the term of your loan is prolonged. Extended terms mean extended payments. Your goal should be to get out of debt as fast as you can!

More than 5 million have beaten debt this way. You can too!
How Are Debt Consolidation and Debt Settlement Different?
There's a huge difference between debt consolidation and debt settlement. Debt consolidation is a type of loan that rolls several unsecured debts into one single bill.
Debt settlement means you hire a company to negotiate a lump-sum payment with your creditors for less than what you owe. Debt settlement companies also charge a fee for their "service." Most of the time, settlement fees cost between $1,500 to $3,500. Either way, you're better off paying down your debt yourself.
The only way I can get out of debt is to consolidate my bills or use a debt settlement company.
Getting Out of Debt is the Answer
You have the power to get out of debt without consolidating your bills or calling a debt settlement company. The answer to your debt isn't a quick fix. The solution requires you to roll up your sleeves, change your spending habits, make a plan for your money, and take action!
How Can I avoid Bankruptcy?
There is hope for you. No matter how bad your situation is, it's never beyond hope. Yes, bankruptcy is a setback, and you should do everything in your power to avoid it. You are not alone in your money struggles. We're here to teach you how to take control of your money for good, no matter how much debt you have.
Financial Peace University Is the Plan That'll Help You Pay Off Debt
If you're serious about learning how to pay off debt and invest for the future, Dave Ramsey's Financial Peace University will show you how. This nine-lesson class—taken online at home or with a local group—will teach you step-by-step how to get out of debt for good and create a lifetime of smart money habits.
Millions of people have become debt-free as a result of going through Financial Peace University, and you can too. Get started today!