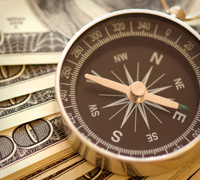 Once again, Sallie Mae, credit cards and car loans come through—and not in a good way.
The Federal Reserve reported recently that consumer borrowing jumped by $17.1 billion from April to May. The bulk of that increase came from the $9.1 billion step-up in car borrowing and student loans. The rest was $8 billion in credit card debt.
There is no shortage of headlines saying that the economy is rough right now. When times are tough, the last thing you want is to spend money you don't have. Even a student loan is a bad idea, because someone who is fresh out of college and just getting started is instantly weighed down by payments to Sallie Mae. They are starting behind the proverbial eight ball and will stay there for years.
People spend beyond their means when they have no plan. As an example, if you go to the grocery store with no shopping list, you'll overspend, buy stuff that you won't eat (or already have at home), and make a mess of your money. But making a list, clipping some coupons, and staying in control means that you won't go into debt over something as simple as buying food.
By the same token, if you take the time to select a college you can afford, a student loan might not be necessary. If you start to save for Christmas shopping in April instead of letting it ambush you in December, you won't turn to the credit cards. The very act of implementing a plan can be a game-changer with your money.
A plan guides you through the times when you are emotional, tired, confused, worried and all points in between. You won't base your spending on how you feel. You'll base it on the black-and-white numbers that were made when you were calm and in control. You'd be amazed at how powerful your money becomes if you put a simple budget in place.
Tonight, sit down with your spouse and write down how you plan to spend your money. It will give you a feeling of control as well as a guide to spending your money properly.
If you want to build a solid financial foundation in life, you don't borrow money. You start with a plan. That's the beginning of the solution.
And the beginning of the end for your money problems.