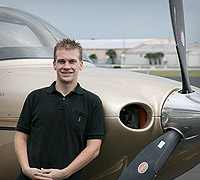 EntreLeader Turns Company Around
When disaster struck Bryan Currier's multi-million dollar company, he utilized the training from EntreLeadership to win in a big way with the help of his team.
For Bryan Currier, CEO of Advantage Technologies in Orlando, Florida, life was pretty sweet. The IT company he helped create more than a decade earlier was doing great. In fact, it had grown from a two-person operation to a multi-million dollar company serving customers in seven states.
Last year, however, disaster struck. It all began with a huge accounting error, and then the IRS came calling with a six-figure bill in hand. That was quickly followed up by a default by one of the firm's biggest clients. The company went from being debt-free to owing more than $100,000 in less than a month. Sweet had quickly turned sour.
"We found ourselves in the space of 30 days facing some very difficult challenges," Bryan said. "Getting past them seemed almost insurmountable."
With such bad news, the easiest solution would have been to give up. Instead, Bryan went back to the training he had received at EntreLeadership Master Series and applied some of the principles he had learned. He began by:
Setting a Goal
A business can't move forward without goals. They convert vision into energy. But for a goal to work, it has to have five components. It must:
Be specific
Be measurable
Have a time limit
Be yours
Be in writing
Bryan's goal did just that. He grabbed a pen and a piece of paper and jotted down "Within 2.5 years, Advantage Technologies will not only be debt-free, but will also have an additional $100,000 in a strategic reserve fund."
Casting a Vision
Once he had written down his goal, it was time to get the Advantage team on board. Bryan needed to share his goal with his staff. That's called "casting a vision." And cast he did. The Move the Mountain campaign had begun.
"We started by identifying the bad guys—all debt and no cash," Bryan said. "Then we told everyone where we wanted to be: debt-free and with sufficient reserves that no one would have to worry about their jobs. Finally, we laid out a plan."
Every two weeks thereafter, a company-wide conference call was held to update everyone on Advantage's progress and recognize team members who were doing a great job.
"One of the things we did was suspend profit sharing until the campaign was complete," Bryan said. "And because everyone knew what was going on, they were all on board. There was not one complaint. People were actually excited. They began bringing us creative ideas to cut expenses and increase revenue."
Bryan didn't just cast his vision once. He recast it again and again. As an EntreLeader, you have to share your vision with your team early and often. It is impossible to talk about it too much.
The Takeaway
By recasting his vision numerous times, Bryan created unstoppable momentum. Revenues skyrocketed and expenses dropped. And in a little more than 12 months, Advantage Technologies reached its goal—one year ahead of schedule.
Now that the Move the Mountain campaign is complete, the celebration will begin. A huge party is scheduled for later this month and profit-sharing is back in a big way. To reward his team members and leaders for all of their hard work, 100% of the company's September profits will be distributed to the staff.
"This has been an absolutely incredible journey," Bryan said. "Right in front of our eyes, there was energy, focus and everyone coming together to hit the goal. It was really amazing to see."
No leader should lead without these principles. It's what your team members need to see in you, and what you want to see in them. Learn more about the EntreLeadership Live Events, and put Dave's 20 years of proven business principles to work for you.
In 20 years, Dave has grown his company to a national winning brand with more than 300 team members who have impacted millions of lives. His company has been named one of the "Best Places to Work in Nashville" four years in a row. EntreLeadership is how he's done it and how you can do it too. Get your copy of the new book now!