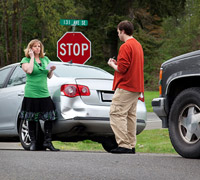 We spend a lot of time talking about insurance on your health and life, but what about the car?
You might drive a nice car or a beater. You might have enough money to buy a car if your current one is totaled. There are policies that cover you financially if your car is stolen, damaged by another driver, hit by a natural disaster, or if another driver isn't insured.
Two of the most important types of auto insurance are liability and comprehensive coverage.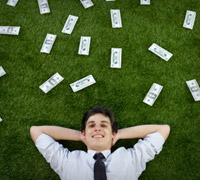 Now that it's cool to be thrifty, it's easy to find money-saving tips on everything from groceries to your mortgage. You'll find lots of advice about cutting insurance costs, and the advice is usually pretty good. A few of the most popular tips for lowering your insurance premiums are:
Getting several quotes
Increasing your deductible
Applying for discounts (multiple policy discount, safe driver discount, etc.)
But if you're looking to save hundreds, even thousands, on your insurance costs, consider Dave's number-one tip: Purchase your coverage through an independent insurance agent, which is an agent who represents several insurance companies instead of working for just one carrier.
How can an independent agent save you money?
Think about how long it would take you to gather quotes from several companies on your home, auto and life insurance policies. Then, imagine comparing each policy's features and costs to find the best coverage. After that, you'd have to determine which discounts you qualify for and apply for them with each individual company.
And even after all that work, you'd still wonder if you could be getting a better deal somewhere else.
Independent insurance agents have access to a network of insurance providers, not just one individual company. That's great for two reasons:
The agent's loyalty is to you, the customer, not the insurance provider. If a company's policy isn't a good fit for you, he won't try to get you to buy it just for the commission.
Your agent will track down the best policies for your family and budget—no hunting and gathering required!
There's really no reason to wait to find out how much you can save on your insurance premiums.
Susan from Tulsa was happy with her old insurance, but she decided to check out her local independent insurance agent, one of Dave's Endorsed Local Providers (ELPs), anyway. Within 24 hours of her call, her ELP set her up with a better auto policy and saved her $500 a year on her homeowner's policy. "Isn't that awesome?" she said. "I couldn't be happier."
Melinda, who'd earned several discounts with her insurance company for being a long-time customer, contacted her ELP in Pickerington, Ohio, to see what he could do for her. He saved her $635 on her annual insurance premiums. "I was shocked that my insurance company's prices could be beaten by that much," she said.
Scott decided to review his insurance coverage after taking Financial Peace University. "Troy (the local ELP) was able to save us $2,000 a year on our auto and home insurance," Scott said. On top of the savings, Troy was able to increase their coverage and add an umbrella policy. "Our only regret is that we didn't do this months ago!" Scott said.
It's Your Turn To Save
Contact your local insurance ELP and find out how much you can save on your insurance. Each of Dave's ELPs is an experienced insurance professional who will give you the same great advice Dave would. Contact your ELP today!
Liability Coverage
When it comes to how much liability insurance you should have, that can be answered in one word: lots. Liability auto insurance is the cheapest and best buy in the entire insurance world. It really does pay to have a large amount—around $500,000 or so. If you are in an accident that is "your fault," the liability insurance covers what is considered to be your fault, like the costs to get a car fixed or someone's medical bills.
If you don't have liability insurance at that time, you would be responsible for paying that amount out of pocket, which would not be a good situation. Liability auto insurance is a definite must-have, no matter what kind of car you drive.
Comprehensive Coverage
You should have comprehensive auto insurance as well. Comprehensive insurance pays for when your car is damaged (not due to a collision) or stolen. If your car is expensive, you need it for obvious reasons. If you are driving a beater, it doesn't cost much to insure, so just keep the coverage. If you have no money, don't take the risk of having your vehicle totaled, leaving you with no way to get around. Since you wouldn't get money from the insurance company or your savings, you would be stuck. Don't put yourself in that situation. Just eliminate the potential stress by having comprehensive coverage.
If you have some money set aside and are driving a less-expensive car, do a cost-benefit analysis. If it only costs $20 a month to insure a $3,000 car, that's a good deal, since it will take you a longer time to pay more in insurance costs than it would to replace the car if you had no coverage.
Always make sure you are covered in case life decides to hit you ... or your car.
Got more questions about car insurance? Check out these calls from The Dave Ramsey Show where Dave answers specific questions.