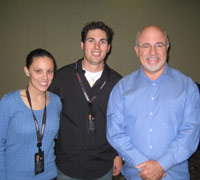 At our last Total Money Makeover LIVE! event in Portland, we selected a handful of volunteer correspondents to tell us about their Total Money Makeovers and give you the inside scoop on the live event. Read how the McPeek family went from broke to living like no one else on their journey to the Total Money Makeover LIVE!
The McPeek's Story
"I was first introduced to Dave Ramsey through Financial Peace University (FPU) but I had never been to a live event. What a great weekend! Both EntreLeadership 1-Day and the Total Money Makeover LIVE events were very inspirational and just what my wife and I needed to renew our gazelle-like intensity. Just looking around the arena at the 8,000 people in attendance was inspiration enough. We were lucky enough to sit in the second row, and it was evident that Dave Ramsey's team and all the volunteers make sure the experience is great for everyone who attends. Sitting in that arena and watching Dave teach, it was hard for me to believe that less than two years before I was a financial disaster and had no idea who Dave Ramsey was.
"My experience with Dave Ramsey and FPU began in February of 2008 when I took the class with my dad and step-mom. My wife, Becky, and I were engaged, and I was forced to take a hard look at how I handled money. Over the years I had managed to dig myself a pretty big hole. From irresponsibility with credit cards and checking accounts, to getting caught up in payday lending, getting upside down on a motorcycle loan, and taking out loans to go back to school, it seemed there was no bad financial mistake I hadn't made. I had lost any semblance of financial hope, and I had absolutely no clue what to do about it. I was 26, and I knew it was time I started acting my age financially.
"Going through FPU changed my life! During the course of the class, I was able to pay off $7,000 in debt and save $3,000 toward our wedding and first apartment. It was the first time in my life that I truly felt independent, and I haven't looked back since. I was so excited about the difference FPU was making in my life, I started FPU at our church. The results were unbelievable! We had just over 60 people in our first class, with a financial swing of over $220,000 during the course of the class. We are looking forward to starting another class this coming January.
"Using the renewed focus we have as a result of the live events this weekend, Becky and I are looking forward to being 100% debt-free before March 2010, having our emergency fund 100% complete by summer, and going to Hawaii. We are also planning on paying cash for our first house! I am excited about our life together. I owe a lot of gratitude to Dave Ramsey for following God's leading in his life and the rest of the Dave Ramsey team that makes Financial Peace possible for millions of people around the world!"
Experience It for Yourself!
Tickets to the Total Money Makeover LIVE Event make a great gift! Dave and his team will bring the event to Houston, Grand Rapids, Dallas, Charleston and San Antonio this spring. Plus, the Dallas event will be simulcast live across the country. Don't miss the Total Money Makeover LIVE in your city!