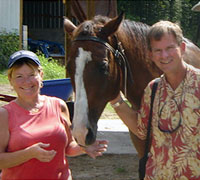 Mike and Cathy Ellison are Financial Peace University coordinators in San Juan del Rio Church in Saint Johns, Florida.
The journey to starting Financial Peace University (FPU) at San Juan del Rio Church in Saint Johns, Florida, began when Mike and Cathy Ellison got serious about their own money.
Small financial mistakes were starting to add up, causing noticeable stress in their lives. So when Mike saw an ad for FPU at a nearby church, he paid attention to it. "Over time I have come to believe God reaches out to us when we need him the most, and this was one of those times," Mike said.
Initially Cathy was a tough sell, but after the first few lessons and versions of the budget, something clicked, and they were both on board. They never looked back. "After completing FPU, we just knew this was something we had to do in our own parish," he said. Their FPU church advisor, Steve, guided them through the process of starting the class.
Once they got the green light from church leadership, they made an announcement from the pulpit and hosted a free preview of the class. The Ellisons and their church leadership were blown away when 110 people signed up! "At first, the pastor's guidance had been to 'keep it small,' but with that kind of response, he recognized that there must have truly been a need and was on board."
The Ellisons have been giving of their time to lead classes ever since. Find out why they do it and why they hope to see other churches make stewardship classes available for their parishioners:
What fuels your passion to keep giving your time and energy as a volunteer FPU coordinator?
Apart from living out the message ourselves, the desire to "pay it forward" and just seeing the changes in the lives of the families who have attended and graduated from FPU have been our greatest motivators. Couples who attended our earlier classes came back to tell us of their becoming debt-free. One young, recently divorced working mother with two small children shared with us her own debt-free story. Another couple paid off their house. We've been there to hug couples as they come forward and cut up their credit cards. We really feel the Holy Spirit at work.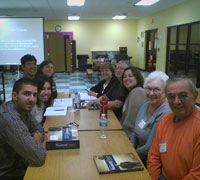 "The desire to 'pay it forward' and just seeing the changes in the lives of the families who have attended and graduated from FPU have been our greatest motivators," the Ellisons said.
Why would you encourage another church to make stewardship training a priority?
We firmly believe offering FPU and teaching couples and families how to handle money God's way is one of the most impactful ministries a parish or church congregation can offer. In the modern culture where debt is the norm, we can't expect families living in extremis to give without showing them how. Stewardship is at the heart of living the Christian life. Stewardship is all about advancing the kingdom of God. It's more than getting a tick in the box by going to church every Sunday. In stewardship, we are wisely managing the resources God has entrusted to us to do the best for our families while advancing the kingdom of God.
What has helped your church leadership to see the value in what you're doing and to support you in it?
It wasn't an easy sell at first. In fact, we encountered some reluctance. But in relating our own personal story and the success stories and statistics from FPU results, we were able to win approval in the end. Since then, the word is getting out about how successful FPU has been, and we plan to go on offering the course for the foreseeable future. It is absolutely important for the pastor and leadership to support it.
What does The Great Recovery mean to you and your church?
Perhaps the most compelling messages from The Great Recovery are that our trust should be in God and not government, don't depend on government to fix our problems, and WE are the economy. People are really worried, but giving them the knowledge and the coaching to change their behavior, they will be better able to take control of their destiny and help put our country back on the road to recovery.
What is your advice about stewardship to other church leaders?
Offering FPU is probably one of the most impactful things any faith community can do for its people. Faithful Christians really do want to give back to God and to His people, but quite frankly many families are financially strapped. We can't expect people to give if they don't know how to give. If you don't have FPU in your faith community, find someone or encourage someone to take the lead and implement it.