Leaving a Legacy
The Dave Ramsey Show: Where Life Happens, Caller After Caller

Debt-free families travel from down the street (like Chad and Meghan, pictured here) and across the country to do their debt-free calls live from Dave's office.
The Dave Ramsey Show is gearing up to celebrate its 20th anniversary. One small way we're recognizing this amazing accomplishment is by publishing a series of articles about the history of the show.
We'll talk about the team, the stations, the studios, the future and the callers—all of the elements that have made The Dave Ramsey Show one of the most successful talk radio shows in the country.
Feel free to add your memories and favorite calls in the comments section below.
When The Dave Ramsey Show first hit the airwaves, the show's producer, Blake Thompson, was praying for callers. After all, what's a "service-oriented talk radio show" without callers?
At first, the phone lights weren't blinking that often, which made for some stressful shows. But it wasn't long before Dave had an endless supply of people to talk to.
If you've tried to call the show in recent years, you know it can be pretty difficult to get through. Quite simply, it's because of the sheer volume of callers who want to ask Dave a financial question on-air.
Local experts you can trust.
Find an ELP
The numbers are staggering. Assistant producer Lara Johnson estimates that Dave has talked to 100,000 callers in the 20-year history of the show. Every day, Lara and her assistant have to screen through an average of 250 callers, which includes voicemails they have received and people who call in during the three-hour live show.
The Ultimate Call: "Hey, Dave! We're Debt-Free!"
Many of those callers are extremely passionate about paying off debt. From 2007 through 2011, debt-free callers on The Dave Ramsey Show have paid off more than $113 million. That's an average of $80,000 per caller.
The debt-free calls became so popular that Dave came up with a way to memorialize all the people who make their calls from Financial Peace Plaza in Nashville.
He had been trying to figure out what to do with a bare wall outside his studio. Lara remembers, "He went out to meet a couple that had just done their debt-free scream, and he told them to sign the wall. Nobody told me, and, as I came back to the studio after a break, I almost tackled these people who were vandalizing our building!
"Luckily, Martha [our Director of Guest Relations and the hostess at the ever-popular Martha's Place] explained to me what Dave had told them. So you have to be careful around Dave … anything can happen!"
Some Calls Are Life-Changing …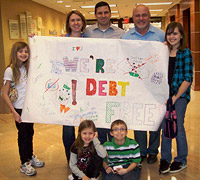 "It's so fun when debt-free callers have their kids yell, 'We're debt free!' with them. Those little voices get so excited," Lara Johnson, assistant producer, said.
While the debt-free calls are always popular, the show has had more than its fair share of other memorable callers. Over the years, Dave has answered all sorts of calls—funny, strange, inspiring and even tearjerking. Both Lara and Blake say the emotional, inspiring calls stand out the most.
"The most emotional are the ones where the wife will call in to inform us she lost her husband in the war a week ago, but she wanted to let Dave know that she's proud of the fact that she and her toddlers will be okay because her husband listened to the show and had everything in place to take care of them, like life insurance and a will. Those are bittersweet calls," Blake said.
Lara said she loves it when parents get their kids involved in the call. "It's so fun when debt-free callers have their kids yell, 'We're debt free!' with them. Those little voices get so excited. They might not grasp it yet, but their lives are changed forever."
… and Other Calls Are Just Weird
Some calls, though, are just weird. Like the guy who lived in the Tennessee hills and called in to tell Dave he had $100,000 in cash in coffee cans buried throughout his backyard. "He didn't trust banks," Blake said.
Then there was the guy who had financed a monkey. "He had to get rid of it and paid on it for years after that," Blake said. "The reason he had to get rid of it? The monkey hated his girlfriend and would throw stuff at her when she came over!"
Dave said one of his most memorable calls came from a guy looking to save on his phone bill. "He wanted to put a pay phone in his house so his family would have to pay for the calls," he said. "And I asked him, 'Who's going to pay for the phone line, buddy? If you don't have a phone line hooked up to the phone, there's going to be an air gap.'"
"He really couldn't figure out that he wasn't going to make money off his family using a pay phone," Dave said. "It was so funny that I lost it and had a hard time getting composed after that." Lara remembers the same call: "He laughed all the way to the break!" she said.
"Another guy called in because his wife told him if he didn't go out and earn $600 a month, she wouldn't have sex with him," Dave said. "He asked me, 'What do you think?' And I said, 'Well, you'd better get to work!'"
After talking with the guy a little more, Dave realized he was just lazy. "I asked him, 'Do you have a window near you?' He said, 'Yeah.' I said, 'Do you see any grass out there?' And he said, 'Yeah.' So I said, 'Go cut some grass, dude.' He didn't like that and started cussing at me, so we had to drop the call, but it was still pretty funny."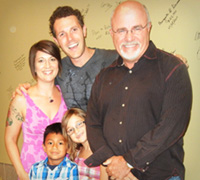 Dave congratulates team member Mike Pappas and family on becoming debt-free and taking the kids on a cruise to celebrate.
One grandmother called into the show concerned with her granddaughter's spending habits. "She was spending $300 per outfit on her 'work clothes,'" Lara said. "Dave asked her what her granddaughter did for a living, and she responded, 'exotic dancer.'"
"But Dave …"
Then, of course, who could ever forget about the "but Dave" calls? It's the caller who said 12% on a mutual fund is impossible, or a 30-year mortgage makes perfect sense, or they have a valid reason for owning whole life insurance.
People don't want to deal with their own stuff, so they try to figure out something we're doing that's not credible. "We make them face their crap," Dave said. "I learned that a long time ago."
"They just want to find something I'm wrong about, which means I'm wrong about everything. Then they don't have to face the fact that they are overspending and they are deeply in debt."
How the Calls Have Changed in 20 Years
Have the calls changed at all in the last 20 years? "Not really," said Blake. "Other than the accents—since we're on all over the country now, not just in the South. In the old days, every question was brand-new, so Dave would have to unpack the basics. But now, most people know that stuff from his events, the show, his books, Financial Peace University, etc."
Blake said adding stations in Los Angeles and New York gave them the opportunity to start fresh with millions of new potential callers, since Dave wasn't as well-known in those cities.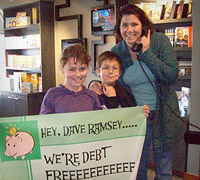 Amy and her kids drove from South Carolina to do their debt-free call from Dave's office.
"The amazing thing is how people from all income levels call in," Lara said. "This show isn't just for people who are broke, it's also for people who have money and want to learn how to use it more efficiently."
That's one of the most unique aspects of The Dave Ramsey Show—it reaches people from all walks of life all over the country. It's not a show that's just for Republicans or Democrats or conservatives or liberals. It's a show that connects with everyone, because it provides something everyone needs—hope.
Keep those calls coming, and Dave will keep answering.
Have you ever called The Dave Ramsey Show? What is your favorite memory or call from the show?