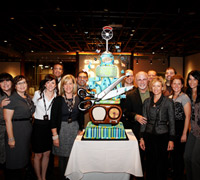 The Dave Ramsey Show team celebrates a huge milestone that was 16 years in the making: syndication on 500 radio stations nationwide!
Next week, The Dave Ramsey Show will celebrate its 20th anniversary. One small way we're recognizing this amazing accomplishment is by publishing a series of articles about the history of the show.
We'll talk about the team, the stories, the stations, the studios and the callers—all of the elements that have made The Dave Ramsey Show one of the most successful talk radio shows in the country.
Feel free to add your memories and favorite calls in the comments section below.
"The tortoise beats the hare every single time."
You might have heard Dave Ramsey say that once or twice—it's one of his guiding principles in money management, and it's the philosophy that's allowed The Dave Ramsey Show to become an "overnight success" after 20 years of hard work.
The journey to being syndicated on more than 500 stations began in a small studio in Nashville. After Dave's radio show, The Money Game, was renamed to The Dave Ramsey Show, he began looking for ways to take the show outside of his hometown.
Dave Paved the Way
"I did the syndication when we started," Dave said, "which means I picked up the phone and I called the radio stations. There wasn't anybody else. Our very first clear was Jackson, Tennessee, and I just called the guy and told him what we're doing over here with our ratings and with our revenues. And he put us on, and we're still on in Jackson."
Only 131 miles separate Nashville and Jackson, but it was that small distance that paved the road to The Dave Ramsey Show's national syndication. Stations in Oak Ridge, Tennessee, and Bowling Green, Kentucky, were right there at the beginning as well.
Those early syndications in 1996 began a slow and steady climb over the next 15 years. Dave's radio team secured slots for the show on station after station—from the east coast to the west coast.
Suzanne Simms, an Executive Vice President with Dave's organization, said those early days of syndication were difficult. "No one knew who we were back then! We were selling them on what we were all about. Today, we sell them on ratings and revenue and how they obtain those by having us on their station," she said. "We have a story to tell now, but back then we were asking them to believe in what we were doing without really knowing who we were."
People all over the country began hearing a message of financial hope—one that didn't include debt and the almighty credit score as the answer to their money problems.
With political talk radio filling the airwaves, Dave's voice was new and fresh. He gave people hope in an industry that needed something unique and inspiring. He provided "service-oriented talk radio," a format that's all about the callers. Other than the occasional interview or themed show, the subject matter is entirely based on the callers' questions about money.
From New York to Los Angeles and Everywhere in Between
Today, the show continues to expand into new markets. You can hear The Dave Ramsey Show everywhere from small markets like Royston, Georgia, and Fordyce, Arkansas, to large metropolitan markets like Atlanta, Orlando, Dallas, San Antonio, Los Angeles and, most recently, New York City.
Fifteen years ago, landing on a major station in Los Angeles and New York seemed like a pipe dream for Dave and his producer, Blake Thompson. Blake said that all of those years of patience and consistency have made that pipe dream come true.
"Through a lot of hard work from the radio team and our affiliate relations team, working for years on the relationships with those markets, we're now in the two largest markets in the U.S.," Blake said.
"Six years ago, we thought if we could just add a few more markets, similar to Nashville, Kansas City or Dallas, that we would really rock this company and the nation with our message," Suzanne said.
"But now, we're on live in the number one (New York City) and number two (Los Angeles) markets in the country. Our brand and credibility keeps growing."
"So many shows start in New York or Los Angeles, and that's their launching point," Dave said. "One of the big knocks on The Dave Ramsey Show from day one was we weren't big time. We were coming out of Nashville, so who would want our show?"
He adds, "We've done this as a grass roots thing from the bottom up, rather than the top down. That's a very unusual marketing strategy in talk radio syndication. You pretty much need to clear a top-10 market in your first year, or you're not going to be anybody. And we didn't clear a top-10 market in forever."
Suzanne compares the radio show's growth to the 20-Mile March concept Jim Collins talks about in Great By Choice. "When you grow at a steady pace—even if you are able to do a quick sprint—you're better able to maintain your growth."
We're Not Done Yet!
After 20 years on air and growing to more than 500 stations, it might seem easy to kick back and enjoy the success. But while the team is thankful for how far they have come, Suzanne said they're continuing to focus on setting new goals and breaking new ground.
"I see The Dave Ramsey Show growing not just in number of stations but in better time slots on better stations due to our credibility. I also see us continuing to have a better online and mobile presence than any other talk radio show out there," she said.
Whatever might be next for The Dave Ramsey Show, you can be sure that Dave and his team are excited about the future. Twenty years from now, will Dave still be shouting, "Sell the car!" on a radio station near you? You never know.
On what station do you listen to The Dave Ramsey Show? Let us know by leaving a comment below.
Can't listen to the show on the radio? Get other options for your daily dose of common-sense advice about life and money.