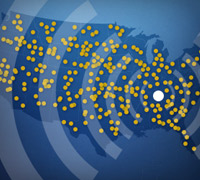 After four articles focusing on the rich history of The Dave Ramsey Show, we thought it made sense to close out this series with a look at the show's future.
The Dave Ramsey Show has always had a clear purpose: to provide hope to everyone from the financially secure to the financially distressed. That's never changed.
But how Dave has accomplished that mission over the years has slowly morphed and grown into what it is today. What started as a small local radio show called The Money Game eventually became The Dave Ramsey Show, syndicated on 500 radio stations across the country.
And what many people don't realize is that Dave Ramsey's organization is much bigger than just the radio team. As of fall 2012, Dave's company has grown to more than 300 team members—professionals who design and develop the website, sell Dave's products, take customer orders, counsel people who need financial help, write and edit content, manage Dave's live events …. The list goes on and on.
Blake Thompson, Dave's radio producer for 16 years, said he wasn't surprised at how the company, and the show, has grown. "I was sold on the fact that this could be huge one day in my first interview with Dave. We put a lot of work into it," he said.
"It's fun to look back and reflect on how little we had when we started and how unknown we were. I remember handing out demo tapes at radio conventions, and now we have more than 500 affiliates with 5 million listeners. It's crazy. Like Dave said, 'We're a 20-year overnight success.'"
Going forward, Blake said he sees the show continuing to grow and provide hope. "I think Dave will become even more of a household name than he already is, like Rush or Oprah, and he'll be known for changing lives, changing families, and providing hope."
Suzanne Simms, an Executive Vice President with Dave's organization, said she thinks technology will play an important role in the years to come. "We already have the best online and mobile presence of any talk radio show out there, but I see us continuing to grow in that area. Mobile will be a big focus over the next few years."
"We're going to utilize technology in ways we've never used it before and give people looks and feels and answers and access that they've never had before," Dave said.
Even as the radio show continues to stay ahead of the pack, the team won't forget where they came from, Dave said. "Terrestrial radio is our home. We love satellite. We love online radio. We love the web and podcasting, Twitter and Facebook. But terrestrial radio is a unique place, so our goal is to continue to be one of the top few shows out there for the next 10 years."
After 20 years, Dave's team is still passionate about putting together the best radio show in the business. And even more important, The Dave Ramsey Show will always be about one thing: providing hope to people who need it.
What are you looking forward to experiencing on The Dave Ramsey Show in the years to come? What do you want to hear more of on a daily basis?