Personal Development
How the Business Boutique Goal Planner Can Help You in 2019
The first step to making your goals a reality is writing them down. Why? Writing down your goals gives them life—suddenly they exist outside of your own head! And because they're written down, you can actually keep yourself accountable as you work toward achieving them.
Now, if only there were some place to keep your goals mapped out on paper . . . Let us introduce you to the brand-new Business Boutique 2019 Goal Planner!
This goal planner uses the exact process Ramsey Personality Christy Wright does to plan her days, capture new ideas, and set goals for the future. And now you can use her method to stay on track with your goals, journal, and make the most of your time!
Why Christy Created the Business Boutique 2019 Goal Planner
Believe it or not, Christy doesn't use a traditional calendar planner. Say what? How does someone as goal-oriented and organized as Christy stay laser-focused without using a traditional planner?
She does (of course) have her own great ways of staying on top of her goals. If she's doing a devotional or a bible study, she uses a workbook to fill in the blanks. If she's reading a book, she jots down her reflections and thoughts to track her personal growth. And if she needs space to keep all of her ideas and goals heading in the right direction—she uses a journal.

Lead others to financial peace! It's easier than you think. Learn how.
Christy took all of that and combined it with the essentials of a traditional business planner (plus some special Business Boutique twists) and there you have it—the Business Boutique 2019 Goal Planner!
What features are in the Business Boutique 2019 Goal Planner?
Weekly Views

This is where you plan out your weekly schedule and tasks and keep working toward your goals (while getting all the life stuff down in between)! Each week has space to write out your regular appointments, meetings, and to-do lists plus the top three goals you want to tackle that week.
There's also a space to track what you're doing each week for your business, your self-care and your family. This accountability goes back to what Christy says about balance: Always make sure you're setting aside time to take care of yourself and be intentional with your family time, in addition to focusing on your business or personal goals.
Monthly Calendar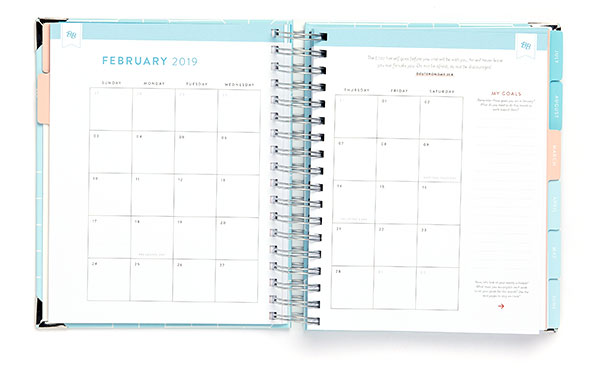 Here's where you'll set your goals for the month and list out what you need to do to reach them. You can even write down what you're doing this month to reach your yearly goals. See a theme here? We want you to keep your goals at the top of your mind no matter where you are in the year!
Monthly Review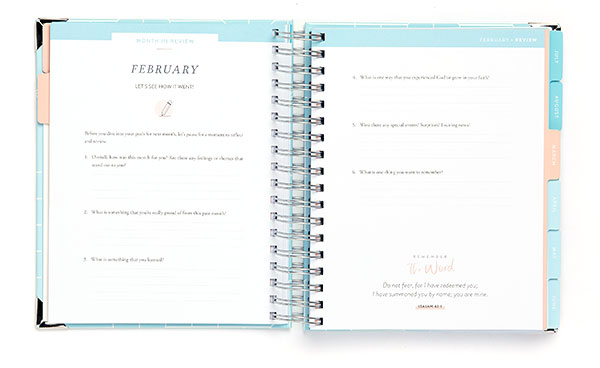 Remember that whole accountability thing we talked about? Here's where it comes into play again. Step back and take a look at how the month went. This is your chance to reflect on how you grew that month, what you learned, and what you want to remember going into the next month.
Teaching Segments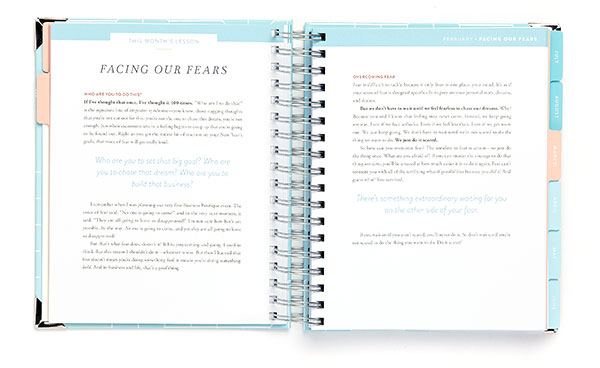 With each new month you'll get a themed lesson to will help you grow in your business and personal life. These teaching sessions from Christy Wright are exactly how she would guide you if you were face-to-face having coffee with her during a coaching session. You'll be equipped with inspiration and professional tips from as you read and follow the reflection questions.
Monthly Worksheet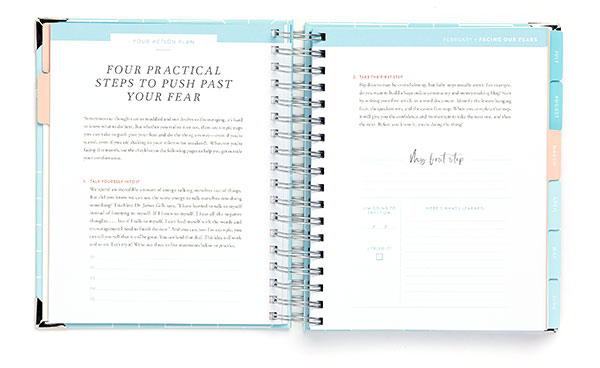 A goal planner that gives you homework? You got it! But not the gross kind! Once you have the head knowledge, it's time to go through the worksheet to reflect some more. This will help you put everything you learned from the teaching in to practice.
Can I use this goal planner even if I don't own a business?
Yes! The Business Boutique 2019 Goal Planner is for everyone—even if you aren't a business owner. The key to remember here is this is a goal planner, not just a calendar to tell you where you have to be or what you have to do that day. The focus is all about helping you take the right steps each month to get you where you want to go.
It's time to knock out your goals and make your dreams a reality with Christy Wright's Business Boutique 2019 Goal Planner. Once the new year gets here, there will be no stopping you!