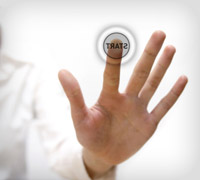 What steps should you take to start your small business? Maybe you're thinking of starting small, building slowly, and working your way to a bigger business, but you're not sure how to get the ball rolling. These steps will help you get off to a great start.
First Things First
The first thing to ask is, "What is my mission statement?" What do you hope this business will accomplish? Second, develop a detailed business plan. Do your research and answer important questions about your potential business—who, what, when, where and why.
Next, if your town requires a business license, take care of that. This isn't expensive, maybe just $15, depending on where you live.
Then you need to open a separate checking account for the business. The account can be listed under your name and Social Security number. For example, the account could be named: John Doe, DBA (Doing Business As) John Doe Plumbing.
Place all of the money you make from the business into that account. Pay all of your business-related expenses from there as well. Remember, income minus expenses equals profit. So if you're putting your income into this account, and you're taking your expenses out of here, then the balance will be your profit.
Don't Forget About Taxes
If you take home any of those business profits, you need to set aside one-fourth of that income in a small savings account for taxes. Legally, if you make over $600 gross income on the business in one quarter—a three-month period—then you're supposed to file quarterly estimates on your taxes and pay withholding. And that should usually come out to around 25%.
So, for instance, if you make $10,000 and spend $9,000, then you have $1,000 left to take home. Write a check for $750 to yourself and a check for $250 to go into your tax savings account. That will take care of your taxes.
If you're not aware of your tax situation, a withdrawal in November could bring a major tax bill in April. Not a good deal. To avoid any confusion, make sure you have a tax professional—one with the heart of a teacher—that you can trust. Be smart about what you are doing with your money—keeping in mind that what you are doing now can affect you later.
Don't worry about incorporating or setting up an LLC until you start making some money. Just take care of this basic accounting stuff and figure out your business plan.
Do Your Homework
Keep a few other things in mind, as well. Owning a small business is hard work. According to the Small Business Association, only two-thirds of small businesses survive two years. It's a roller coaster ride, so you better love what you're doing in order to survive the ups and downs. If you're just in it for the money, you won't make a lot of money—and you won't be in business long, either.
If you want to open an eBay store, talk to people who have successful eBay stores. Talk to people who have started similar businesses, read about the industry, and do a lot of research. You are about to take on a huge responsibility. Be focused, prepared and ready! Know what you are about to get into.
But, most importantly, don't go into debt to start this business. Follow the steps we've outlined, pay cash as you go, and start building your business slowly.
Learn more from Dave about growing your business the right way at his business conference, EntreLeadership.