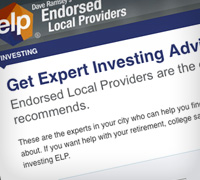 Take a look at the "Ask Dave" section of daveramsey.com, and you'll find more than 250 investing calls Dave has answered on the air. We recently invited Dave's Facebook fans to post their questions for Dave to answer on the air that day. Fans posted 230 questions and comments before the show wrapped! And that's just the tip of the iceberg.
Some questions are general and easy to answer, like this one: "Is it okay to hold your emergency fund in precious metals like silver bullion?" The answer? Dave never recommends investing in or buying precious metals. Keep your emergency fund in an easy-to-access money market account.
Everyone's Unique
But other questions are extremely personal and highly specific. For example, Flo asked about a particular investment that was supposed to provide income for her and her husband. She was concerned that the principal was dwindling fast, and she didn't know what do to about it.
Or Latise, who gave us her income and a list of her debts and then asked if there was any hope for her to build wealth. Still others want to know what specific mutual funds they should invest in, or they have concerns about how inflation will affect their savings.
Unique Questions Need Unique Answers
These are great questions, and we truly want to answer them all. But only an experienced, professional investment advisor can answer your specific investing questions. A pro will consider your age, tax liabilities, income, family needs—all the factors that can influence your investing decisions. And since no two people have exactly the same situation, the answers are never exactly the same either.
You can rely on us to give great investing advice through Dave's newsletters, website, books and radio show. But to get your unique questions answered, Dave recommends you work with an investing pro who has the heart of a teacher.
Getting Your Own Personal Advisor Is Easy
You can find your advisor through our network of investing Endorsed Local Providers (ELPs), professionals who agree with Dave's investing philosophy and advise their clients the same way Dave would. Working with an ELP is the next best thing to having Dave as your advisor. Contact your ELP today!