For five years, Dave Ramsey's Foundations in Personal Finance curriculum has been changing the lives of students and parents in Afton, Wyoming.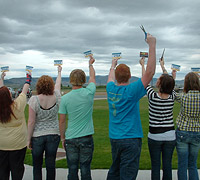 Debt Won't Loom Over Us!
Students at Star Valley High School take scissors to Visa cards to declare freedom from debt!
Star Valley High School business teacher Kent Eberspacher uses the curriculum to teach a class called the Millionaire Club for juniors and seniors as part of the school's personal finance course.
"When the class was first offered, there was one section of 38 students," Kent said. "Next year, we will have two sections with approximately 84 students. Each year our numbers increase."
And the growth comes almost entirely from current students recommending the class to other students, he added.
Students are so pumped up about the class that they compete for tickets to take their parents to Dave's Total Money Makeover LIVE! And a local church is now offering Financial Peace University for the first time.
What's Got The Students Talking?
Dave teaches the curriculum via DVD. Student workbooks and activities reinforce the lessons about avoiding debt and building wealth. That leaves Kent free to bring the class to life even more by adding his own creative touches. Here are some of his ideas: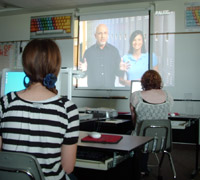 Educating and Entertaining
Students in Kent Eberspacher's business class watch a segment of Dave Ramsey's high school curriculum.
On a field trip to the county library, the librarian has the juniors and seniors sit in the same tiny chairs they sat in when they visited the library as kindergarteners. She reads them The Tortoise and the Hare, they discuss the meaning of the book, and everyone gets a 100 Grand candy bar. The experience correlates with a story Dave tells about how to become a millionaire.
On the first day of class, students pick numbers to "play" the Power Ball lottery. They're always excited and have high expectations about their "winnings." The excitement quickly dies when students see how much they would have spent compared to how much they could have won. The last class "spent" more than $1,000 to "win" $83. Most students stop checking their numbers after just two weeks.
Kent invites a local car dealer to speak to his class about buying used cars. He is honest with the class, making it clear to them that he makes money financing cars for people who just want to know "how much a month."
Students post photos of their current paid-for used cars along with a photo of their future paid-for car and how they plan to pay for it.
Kent creates a debt simulation for his students. Students of Star Valley assume an identity that begins with debt and ends with screaming, "We're debt free!"
Foundation Building
Thanks to parents who were wise about money matters, Kent knows the value of learning how to handle money. His parents advised him to stay out of debt, have an emergency fund, invest in mutual funds through his 403(b), and have a conservative mortgage. Now he has the option to retire at age 54, and he wants to equip his students with the same sound principles.
"My students are taught that life is made up of choices," he said. "That everyone has an opinion about money and what to do with it, and as young adults, they must make up their own minds on how to live life and manage money.
"The Foundations in Personal Finance curriculum provides a wonderful base for making sound decisions, and it is up to the students to decide if they want to follow it."
Be a part of bringing this life-changing class to students in your community! Learn more about Foundations in Personal Finance, the premier curriculum for teaching high school students about money.