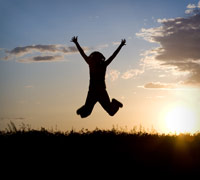 Amie Streater knows that helping others in the area of personal finances is her life calling.
That's why she's the Financial Stewardship Pastor at New Life Church in Colorado Springs, Colorado. That's also why she decided to go through Dave's Counselor Training. "I want to be the very best I can be at helping others achieve financial peace. I believe Dave's program is the most straightforward and the most effective debt-elimination and wealth-building program in existence," Amie said.
She believes that the practical information she learned at Counselor Training has helped her become a better and more effective counselor. "Counselor Training gave me a well-rounded education in how things work, what the rules are, and how consumers can use those rules to their advantage," she said. Amie also became more confident in her abilities to counsel people with money problems.
After witnessing so many people change their lives because of the financial counseling they received, Amie decided to bring Financial Peace University (FPU) to her church. Soon after, even more people were getting the help they needed and making dramatic transformations in their lives.
Each time the church offered an FPU class, they featured it on their website and bulletins and showed commercials on Sunday mornings. But Amie discovered that FPU graduates are the best advertisement. "Usually half of the class is friends and relatives of previous class members," she said.
New Life Church has offered numerous FPU classes, and they intend to continue offering them as long as there are people who want to go through the class. Amie recommends FPU to families looking for a starting point in improving their money. Then, she offers coaching to those who need extra help or are in a higher level of crisis. "I don't see how you can have one without the other," she said. "I always try to get people to go through FPU before they sit down with me for coaching, so that they have the educational foundation they need to succeed."
Amie has seen firsthand the link between FPU and financial counseling. She facilitated four classes before becoming a counselor. The total result of those four classes was $2,390,095 in debt paid and $466,784 saved among 725 participants. Since becoming a counselor, Amie has seen a dramatic improvement in FPU class results. The overall count for the four classes she facilitated after going through Counselor Training was $3,340,497 in debt paid and $861,305 saved between 734 class members.
By watching hundreds of families and individuals fix their money problems thanks to FPU and counseling, Amie has also seen marriages saved, addictions kicked, and parents teaching their kids about money. "I strongly believe that if every church in America would implement FPU and have a counselor available, we could virtually eliminate divorce in Christian marriages, and we could raise up an entire generation of debt-free kids," she said.
Learn more about offering practical life-change to your church and community with Financial Peace University and Counselor Training.