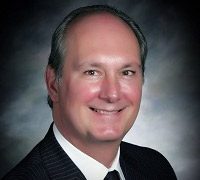 When life hands you lemons, you're supposed to make lemonade. But what if it gives you a whole orchard? If you're EntreLeader Mitch Landry, you not only make the best out of the bad situation, you change the lives of others, too.
We recently met Mitch at EntreLeadership Master Series in Tucson, Arizona. Mitch, a title attorney, lives in Lafayette, Louisiana. His story touched us so much, we knew we had to share it.
You see, Mitch hasn't always lived in Lafayette. He and his wife, Sandy, were longtime residents of New Orleans. That was until August 2005, when Katrina came blowing into town.
Normally, Mitch and Sandy, a fifth generation New Orleanian, rode out the storms. But this time, Sandy insisted they leave. "She told me that we needed to get out of there," Mitch says. "And then she added that I needed to bring some suits with me because I would be looking for another job. The city was going to be destroyed. She just had a 'feeling.'"
The couple drove to Baton Rouge to their daughter's small college apartment. Mitch thought they would have a great time and be home the following day. Unfortunately, Sandy's "feeling" was correct. Hurricane Katrina was one of the most powerful storms ever to hit the Gulf Coast. More than 80% of New Orleans was under water and more than 1,700 people were killed.
The Landrys soon learned their home was substantially damaged and Mitch's office destroyed. Six adults, a 2-year old, a dog and three cats would be staying in that tiny apartment for quite a while. But instead of feeling sorry for themselves, they decided to help.
The family hit the streets and volunteered wherever needed. They spent a lot of time helping residents of nursing homes who were being transported from New Orleans through Baton Rouge to destinations unknown at the time. Many were scared, had no idea whether their families had survived or even if they were going to live through this terrifying situation themselves. The Landrys gave comfort, spent time talking and reading to the seniors, cleaned beds, changed diapers, whatever was needed—all without complaint. Mitch says it was a heart-breaking, life-changing experience, especially when he saw young college students–many LSU star athletes—lending a hand without hesitation.
"We felt so helpless, we had to do something," Mitch says. "I watched those kids doing whatever was necessary, and it gave me the strength to do the same. The entire experience showed me how precious life is and that it can be gone in a second."
Mitch and his family eventually moved back home. But Mitch's business, which focused on real estate, never quite recovered. The family realized they couldn't stay in their beloved city.
Today, Mitch is a partner in a thriving law firm—Andrus, Boudreaux, Landry & Cousaan in Lafayette. He adores his new home and his job. "I really love what I do," he says. "People in real estate transactions are happy. The seller has sold their house, the buyer's dream is about to come true and the real estate agent is finally getting a paycheck. Litigators can't ever say that. I have the best of all worlds."
When life hands you lemons and you're Mitch Landry, you make more than lemonade. You stop focusing on your own problems, step out of your comfort zone and lend a helping hand. It's a lesson that we can all take to heart and use as an example of EntreLeadership at its finest.
To learn more about business, team building and leadership, download our newest EntreLeadership Podcast. On our latest broadcast, host Chris LoCurto answers our listeners' top questions. And, as always, there's an EntreLeadership lesson from Dave.