Saving
Martha's Mile-High Ice Cream Pie

Our Director of Guest Relations, Martha Thompson, enjoys making desserts daily for the many people who come to visit us at Financial Peace Plaza, as well as entertaining her friends and family with tasty treats. We sat down with Martha recently to get the recipe for one of her most-requested summer creations—the Mile-High Ice Cream Pie!
"A fond memory growing up was of creating ice cream concoctions with my family during hot summer days. Although my sisters and I suffered our share of 'brain freezes,' the hands-on experience as a child had a profound effect on me. I still love making homemade milkshakes and Mile-High Ice Cream Pies for my family and friends, especially for summer holidays.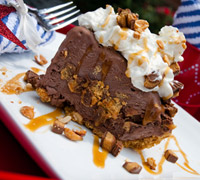 "There is something irresistible about chocolate and peanut butter, and the combination in this ice cream pie is no exception. This is one of my most-requested desserts for summer gatherings. It's not only delicious, but it's beautiful, too!"

Ready to start saving? Download our free budgeting tool today!
Ingredients
12 whole graham crackers (or 24 graham cracker squares)
1/3 cup honey roasted peanuts
1/2 cup butter, melted
1 carton (1/2 gal. or larger) of chocolate ice cream, slightly softened
1 cup plus 1 Tbsp. creamy peanut butter (separated)
6 packages (1.5 oz. each) Reese's Peanut Butter Cups, cut into small chunks
1/2 cup Smucker's caramel ice cream topping
1 cup (1/2 pint) heavy whipping cream
1/4 cup confectioner's sugar
1. Make the crust
Spray a 9-inch pie plate with nonstick cooking spray. Process graham crackers and honey roasted peanuts in a food processor until reduced to fine crumbs. Measure 1 1/2 cups and discard remaining crumbs. Add 1/2 cup of melted butter and process until crumbs are moistened. Press crumb mixture over bottom and up sides of prepared pie plate. Freeze for at least 30 minutes. (Note: If you do not have a food processor, finely crush crackers and peanuts in a sturdy plastic food bag with a rolling pin or bottom of a heavy saucepan. Measure 1 1/2 cups of crumbs, add cooled melted butter, and knead in bag until crumbs are moistened.)
2. Prepare the filling
Place carton of ice cream and 1 cup of creamy peanut butter in a large mixing bowl. Stir vigorously with rubber spatula until blended and smooth. If necessary, let the ice cream begin to soften (but not melting) to make stirring easier. Spread half of the ice cream mixture in crust; sprinkle a layer (reserving 1/2 cup for garnish) of bite-sized, chopped peanut butter cups. Spoon the remaining ice cream over your layer of candy, carefully mounding it slightly in the center of your pie. Freeze until firm.
3. About 15 minutes before serving
Mix remaining 1 Tbsp. peanut butter with caramel topping and set aside. Remove pie from freezer to begin to soften. Beat cream and sugar in a chilled mixing bowl until soft peaks form when beaters are lifted. Drizzle caramel mixture on dessert plates; top with pie wedge, whipped cream, candy garnishes and then drizzle more sauce if desired. (Tip: Fill the bottom of your sink with hot water and carefully dip the bottom of your pie plate in water to help loosen. Run knife under hot water for smooth, clean slices.)
Enjoy!
Get more recipes and behind-the-scenes news straight from Martha by following her on Twitter @marthas_place.