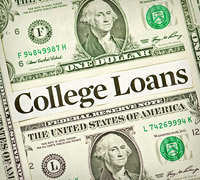 Today's teens are part of a generation that's already known for struggling financially when they get out into the world.
The College Savings Foundation reports that 66% of upcoming college freshman plan to take out student loans. Eighty percent have no clue of the total amount of money they will need to graduate, and 82% haven't even calculated the monthly loan repayment amount.
According to Equifax, recent college graduates carry an average debt burden of $23,200—a 24% increase since 2004! People in the 18 to 24 age bracket spend 30% of their monthly income on debt repayment alone.
So what can we do about it? How can we turn the tide?
Students need a foundation for how money works before they starting making decisions with money on their own. Dave Ramsey's youth group curriculum, Generation Change, is doing for teens what Financial Peace University is doing for adults throughout the country—transforming outlooks on money.
The course equips students with both practical tools and biblical principles about money. It also gives them the opportunity to avoid costly mistakes, and it gets to the real heart issues like self worth and materialism.
"I lead our youth group through this course and absolutely love it," said Bree Walton, a Generation Change Facebook fan. "This six-week Bible study series is fun to teach, fun to learn, and puts a major emphasis on both God and giving." Dave Ramsey does the teaching on DVD, which is followed by activities and discussion questions provided with the curriculum.
Setting Students on the Right Path
"Financial Peace University had such an impact in my own life that I wanted to give teens a head start. I wanted to get them on the right path from the very first step," said Don Chapin, Student Ministries Pastor at South Baptist Church in Flint, Michigan.
One of those students already on the right path is Chrissy Demer's high school daughter. "My daughter is taking Generation Change with her youth group, and she is starting to 'get it'," said Chrissy. "She is 14 and already has $500 saved for a car from her babysitting money." Chrissy said that although her daughter finds it difficult to wait and save when her friends just have money given to them, she is learning that instant gratification isn't all that it is cracked up to be.
Another student, Allison Romack, is making decisions that will impact her future in a powerful way because of what she learned in Generation Change. "Out of a $200 paycheck, I only spent $45. If I keep this up, my college education will be paid for!" she said. "Generation Change has changed my life!"
Help the young adults in your church build a solid foundation for the rest of their lives! Learn more about Generation Change.