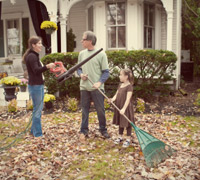 In the anticipated follow-up to Strong Fathers, Strong Daughters, Dr. Meg Meeker takes dads through 30 practical challenges to help them grow in their parenting skills. The 30-Day Challenge teaches you how to become engaged and intentional in your daughter's life as she matures from childhood into womanhood. You'll learn the 10 secrets that every dad should know and how to live them out at every stage of your relationship. This is the perfect guide for all dads with daughters.
Here's a snippet from one of Dr. Meeker's 30 challenges:
If you aren't a help to your spouse around the house, get moving. Do the dishes; help out with the laundry. If you are already a star in those areas, move beyond the confines of your family to find ways to serve other humans. Get involved in a soup kitchen or a food drive. Show your daughter a different way to live than she gets to see anywhere else, because a daughter who is humble knows that she doesn't need to look further than her own family to realize that she has extraordinary worth.
When our girls were young, I ordered Chinese takeout for dinner and asked my husband to pick it up. Just before my husband left the house, I reminded him to be sure that the egg rolls were included in our order because they were my favorite part of the meal. Two of our daughters jumped in the car with him to pick up the food.
When he returned home, I became agitated because the egg rolls weren't in the white containers. When I let my irritation show (I barked at him) about forgetting the egg rolls, he stayed silent. My 6-year-old tugged on my sleeve and whispered that her father spotted a man rummaging through garbage cans on their way home from the restaurant. He pulled his car into the parking lot near the garbage can and brought the entire order of food over to the man. He then told the gentleman that he was welcome to any or all of the food. You guessed it. He took my egg rolls.
Our daughters learned to treat others as they would like to be treated because my husband gave them a story. It was his story born from a strong belief that all people deserve to be loved at all times.
Challenge: Serve Together
Find a need among your friends, family members or neighbors and ask your daughter to help you meet it. Ask her to help you put up dry wall at a friend's home, mow the lawn for an elderly neighbor, or repair the car of someone on a fixed income for free. You get the idea. Be creative with ways to help others and then ask her to join you in doing so.
You may choose to work together for a local charity or church project and/or help out in a recurring voluntary role. Encourage your daughter to see the needs around her and cheerfully volunteer her time and energy to serve others.
Find a need and/or charity or church project in which you could assist.
Plan the date and time to serve together.
Put it on the calendar.
Wear old work clothes, pack your lunch and water bottle, and get to work!