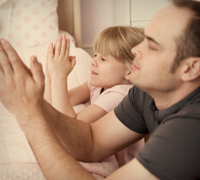 In the anticipated follow-up to Strong Fathers, Strong Daughters, Dr. Meg Meeker takes dads through 30 practical challenges to help them grow in their parenting skills. The 30-Day Challenge teaches you how to become engaged and intentional in your daughter's life as she matures from childhood into womanhood. You'll learn the 10 secrets that every dad should know and how to live them out at every stage of your relationship. This is the perfect guide for all dads with daughters.
Here's a snippet from one of Dr. Meeker's 30 challenges:
Your daughter needs you to stay honest. She needs to know that you don't live with anything to hide because she knows that what you hide isn't good. It hurts. And that's why your daughter needs you to teach her about God. Because when she sees that you love Him, she will love Him. And once she learns to love Him, she will learn that she can't run from Him. He is everywhere and nothing can be hidden. If she has faith, she will have fewer secrets. If she grows up without faith, she will learn that she can hide whatever she wants.
If you want your daughter to live with a sense of freedom and peace, give her God. Once she learns to live with a vibrant prayer life and a deep connection to God, she will learn to like herself. Her self-confidence will blossom because she will learn to live with a sense that she has no need to hide anything. Shame will not be able to take hold and tuck itself away in dark corners because God sees every dark corner.
God Sees All
Faith keeps girls living with a strong integrity because it teaches them that they have no need to run from anything or anyone. God sees all that they are, and He likes what He sees. When your daughter believes that she does not have to feel shame because God accepts her as she is, strength will emerge from deep within her being and give her confidence. And when she has confidence, she will stay away from all of the bad stuff in life.
Studies show that God is good for daughters. With God, girls are more likely to be psychologically and mentally secure, they stay away from sex, drugs and alcohol, and they are less likely to be depressed. This is just the beginning of the list. I am convinced that many of the benefits of faith come from the fact that faith in God helps girls understand who they are, like who they are, and live with a sense of openness and honesty. With God, girls don't live with anything to hide.
Challenge: Pray for and With Your Daughter
Ask your daughter how you can pray for her, and then pray for her requests in her presence. Set aside a time (daily, ideally) that the two of you pray together. Allow your daughter to hear you ask God for forgiveness and healing. Teach her The Lord's Prayer and pray it together.
Choose a time to pray with your daughter and put it on your calendar.
If you'd like, keep a small notebook of your and your daughter's prayer requests. Record the ways in which the prayers are answered.