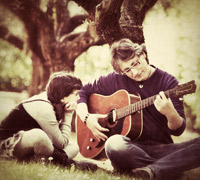 In the anticipated follow-up to Strong Fathers, Strong Daughters, Dr. Meg Meeker takes dads through 30 practical challenges to help them grow in their parenting skills. The 30-Day Challenge teaches you how to become engaged and intentional in your daughter's life as she matures from childhood into womanhood. You'll learn the 10 secrets that every dad should know and how to live them out at every stage of your relationship. This is the perfect guide for all dads with daughters.
Here's a snippet from one of Dr. Meeker's 30 challenges:
The moment you walk into a room, your daughter knows that you are there. She tunes in to you because she needs to figure a few things out. Do you see her? Do you like what she is wearing?
When Allie was six years old, her engineer father began taking her to work with him on Saturday mornings. While he made phone calls, she would sit at his desk and spin in his enormous leather chair. When I spoke to her, now 36, she could recall the smell of the leather, she said. After several hours at the office, she and her father would leave and walk to a nearby deli to have lunch. Every Saturday, they continued this routine until she was in her early teens.
"Being there with my dad made me feel smart. I don't remember my dad telling me I was smart, but somehow I just knew that he believed that I was. Being with him in his huge office while he conducted his work made me feel like I was a part of it all. That's what made me feel good, I guess, that my dad thought that I could enter in. As I got older, he would ask me questions about things—important things. I know he didn't heed any of my advice, but he asked and that's what made me feel important."
Today, Allie runs a very successful engineering business. She has a beautiful office and a large leather chair at her desk.
Challenge: Teach Her Something
What skills do you possess that you can teach your daughter? Maybe you can teach her to master the guitar, play tennis or change the oil in your car. As she learns at your side, she'll more closely identify with you.
Gather what you'll need for lessons with your daughter. Set aside time for the teaching and learning. Put it on your calendar. Encourage your daughter to practice her new skill.